Protecting your money with online gambling internet security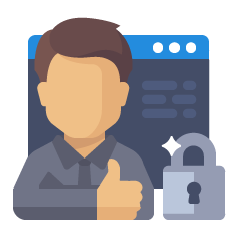 Despite its worldwide popularity, many players rightfully wonder about the legitimacy of internet security for online gambling, and many aren't entirely sure how to tell if they're adequately protected when depositing and withdrawing money in 2022.
Fortunately, online gambling internet security is one of the most important precautions that any SA casino has to make if they want to stay in business. With a staggering rise in popularity of this kind of gaming and the number of people online, measures are strictly regulated and enforced by legitimate sites across the globe.
Most sites will make their internet security online gambling policies clear from the start. If you're still not convinced, here's what to look for to ensure you're protected while you play.
A fair and safe website
As a hugely competitive global industry, online casinos are expected to maintain the highest standards by ensuring they comply with industry security and software protocols. One of the first ways you can protect yourself is by only choosing to play at top registered and licensed sites that meet minimum internet security and gambling online safety requirements.
How operators protect your cash
Most South Africa sites dealing with real money are as safe and secure as banks and online shopping websites. If you're ever in doubt, a great way to put your mind at ease is to look for reviews and visit watchdog sites to discover what people are saying. Reputable and licensed operators will not only be easy to find, but they'll also be completely transparent about the ways they enforce internet security and online gambling safety standards.
Seals of approval to look out for:
Technical Systems Testing (TST) An independent and internationally recognised and accredited testing facility for land based and online casinos, TST is responsible for auditing and certifying that online gambling internet security is fair and safe. In addition to testing things like functionality and game source codes, they also test the Random Number Generators in online casinos to ensure the algorithms are unpredictable and fair, using a series of complex tests and mapping systems. If a gambling website has been audited by TST, that is a great reason to trust their credibility.
eCOGRA e-Commerce and Online gaming Regulation and Assurance (eCOGRA) is a non-profit organisation which acts as an independent standards authority. They oversee gamer protection, fair play and responsible conduct by operators. This seal of approval is one of the most respected in the industry and one of the best ways to discover the highest rated internet security online gambling sites to play at. By complying with eCOGRA, internet gaming sites are responsible for ensuring that their games are fair and that they act responsibly by protecting the interests of their players.
SSL Security SSL is short for Secure Sockets Layer. This internet security gambling online software ensures communication is safely encrypted and securely transmitted, so that no third party sources are able to access it.
ID Verification for cash withdrawals
Credible sites with policies that regulate their internet security for gambling online will never withhold payments unless a player has been found using a fraudulent credit card or relentlessly violating the rules. In most instances, online casinos have terms and conditions surrounding withdrawals in order to protect operators and gamblers. This means that, if a withdrawal is being made, people are asked to verify their identity before the payment can be completed.
Gambling online internet security while playing on a public network
Just as you would with banking, or any site that requires your credit card and banking details, it's safer to avoid public networks while playing for real money. The safety of using a public network simply can't be guaranteed, as security on these networks is limited and easily accessed by others.
Check the best methods of deposit
Don't settle for 'cash only'. Most reputable sites will offer multiple ways of making deposits. These include credit cards and a host of third party services that offer secure methods of payment. By restricting the information made available to casinos, these third party apps protect you even further.
Do a quick Google search
Type in the name of the casino you're thinking of playing at, along with words like 'complaints' or 'banned' or 2022, and see what the search results return. When you're playing with cash, online safety is a huge consideration, and most people will have complained online if they were not satisfied. You'll quickly be able to discover whether a site has transparent internet security gambling online policies in place.
Quick tips to protect yourself
Never reveal your secure password or banking details to anyone online
Don't reveal your personal information to anyone claiming to be a representative of the site you play on
Always ensure you do enough research to ensure the SA gambling site you're playing on is legitimate and committed to your security
We hope these tips deliver peace of mind. Remember that, when it comes to gambling online and internet security, recommended sites aim to bring you the best experience possible. See our roundup of some of the top South Africa sites now and have fun while you play safe!

Frequently Asked Questions (FAQs)
Q
How safe is the average South African online casino?
▼
A
There's too many casinos accepting South African players out there to ever give an accurate answer to that question.
However, there are enough top South African casinos that are proven safe for there to be no need to risk playing on a possibly dodgy casino. The safest and securest of these we've listed on this page.
▲
Q
Will the games I play be fair and balanced?
▼
A
If you a play at an online casino that's certified safe (and all our recommended ones are), you won't run into any problems with crooked games.
These certified casinos are regularly audited by third-party organisations that make sure they're running a fair operation.
▲
Q
How do I know if a game is truly random?
▼
A
Before signing up for an online casino, look on their site for a seal of approval from an organisation like eCOGRA.
These third-party organisations run regular inspections on casino's random number generators (RNGs) to ensure they are fair, balanced, and truly random.
▲
Q
Who audits online casinos and games for fairness?
▼
A
Organisations such as e-Commerce and Online Gaming Regulation and Assurance (eCOGRA) and Technical Systems Testing (TST) are two of the main casino testing groups.
These agencies do regular inspections and audits of casinos online to ensure their operation is fair and not cheating their players in any way. You can find a list of casinos they have approved and other details on their respective sites.
▲
Q
What should I look for in a safe online casino site?
▼
A
The first thing is to make sure the casino is licensed by the National Gambling Board (for casinos based in SA) and has a seal of approval from a third party testing company (like eCOGRA or TST).
Once you know a casino is fair and has strong security protecting your information, also look for generous welcome bonuses, reliable customer support, and a wide variety of games to play.
▲
Q
Will my transactions be protected at an online gambling site?
▼
A
Any online casino we recommend has SSL Encryption technology protecting its transactions and customers.
This is the same technology that banks use to protect their online customers, making a secure online casino as safe to use as any other online retailer or bank.
▲
Q
Will my personal information be protected?
▼
A
If you choose an online casino that is licensed and regulated, you should feel safe about the privacy of your personal information.
Quality casinos all use encryption technology and security that rivals what banks use, meaning your personal account information is incredibly safe.
▲
Related Pages