2022's top sites for gambling in South Africa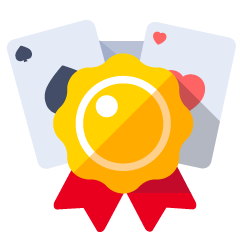 As huge fans of online gambling, South African players enjoy a formidable range of online slots and table games like roulette and online blackjack in 2022. The top sites offer innovative gaming and a quality casino experience on the web, all powered by the fastest software on desktop and mobile.
Here you can find the review team's shortlist of the very best casino sites, rated by the value of their bonuses, the win rate for players, and the ease of using popular payment options at the cashier. You can expect an excellent experience when signing up with any of the South Africa gambling sites listed here.
Get a generous bonus that fits your playing habits
Play your favourite real money games in Rand
Spin for progressive jackpots that build up to millions
We're South African casino players who love online gambling games

This site is written for and by South African players. And that's what sets us apart. For us, to gamble real money online is not simply a hobby or pleasant pastime, it's a passion. A passion for enjoying great games, having lots of variety, claiming fantastic bonuses, winning jackpots and spending hours doing what we love. And with many decades of online gambling experience between us, we've learned that sharing that passion and knowledge is the best way to find the top online gambling sites in South Africa.
GET
MORE USEFUL INFO

ON THESE PAGES
We know what SA players want and need in an online gambling site
Rated by South Africans for South Africans
Fluctuating internet connection speeds. Deposit options that don't pay out in Rands. Unscheduled loadshedding interrupting play. We get it. And we've kept all of those concerns in mind when testing and selecting the best 2022 online gambling sites in South Africa.
Blacklisted

South Africa Casinos

Bad business practices
Ignores players' queries

Many gamer complaints
Legal issues with owners

Players not getting paid
Unethical operations
VIEW LIST OF TRUSTED CASINOS
We specialise in rating and reviewing South African online gambling sites

Rating and reviewing online gaming sites is a full-time job, but one that we're happy to do. Constant monitoring not only ensures that our list of the best South African casinos online remains current and relevant, it also keeps online casinos on their toes, as they can't afford to get taken off our list and lose players.
So what are the requirements when we're looking for the best sites for real money online gambling? Firstly, we look at the elements that are most important to you as a player, which could impact your gameplay and potential for winning, like:
Great deposit bonuses that are worth taking up
Gameplay in Rands to avoid any conversion costs
Safe and easy deposit and withdrawal methods
Lucrative weekly and monthly promotions to increase your bankroll
VIP programs that reward you for your loyalty
Sizable jackpots that regularly pay out
JACKPOT OF THE DAY



TRY YOUR LUCK!
Your safety comes first when we review online gambling sites
While the elements listed above are some of the most important things to look out for from a winning perspective, our top priority is providing a safe and fair environment for our players. That's why each and every SA online gambling casino recommended on our list also adheres to the following:
Licensing: Each one of our approved SA online casinos is licensed by an accredited gaming authority, with an up-to-date license and valid licensing number.
3rd party auditing services: The real online gambling casinos that we recommend are tested and audited by an independent 3rd party. This ensures that their software, Random Number Generator and payouts are all fair and in line with international gaming standards.
Strict privacy policies: Your private information should stay exactly that, so we make sure that when you gamble online for real money at one of our casinos, they take the utmost care to ensure the safety of your personal details according to the latest data protection laws.

Software: At the heart of each gambling online casino lies its software. We make sure that everything works seamlessly and that there are no connection glitches or problems that could affect your play when you gamble real money online in 2022.
Download speed: Since South Africa's internet connection speed is unreliable, you need real online gambling software that downloads in a matter of minutes, not hours.
Customer service: Nobody's got time for bad customer service, especially when you're in the middle of a lucky streak or winning hand. In order to qualify for our list of recommended online gambling casinos in South Africa, the gaming site has to offer exceptional customer service with friendly and knowledgeable agents who have the capability to help you quickly and efficiently, so you can get back to your gameplay without delay.
Top Jackpot Winners From South Africa
Every day, South Africans win huge amounts of real money by playing their favourite casino games online. From poker to blackjack to sports betting and beyond, players with good gaming smarts (and a little bit of luck) regularly turn their hobby into profit.
But by far the most lucrative games are progressive slot machines. These games' massive jackpots often grow into the millions of dollars, which can be won with even the smallest of wagers. See for yourself in our list of the latest lucky winners from SA:
Welcome to the home of the most sought-after list of top online casinos in South Africa
Here we bring you only the best SA gambling online websites, while constantly updating our site with the latest reviews and gaming info that you need to know. Ready to start winning? Then go straight to our list of top online casinos in South Africa and get playing!
The team's shortlisted gambling sites have all proved themselves to players as quality venues for online betting and casino games. Enjoy real money play with slots online, roulette, blackjack and baccarat as well as many other titles and variants. Read on to find the right site for you.
Play
Free

Online Slots Games

Frequently Asked Questions (FAQs)
Q
What are the most popular games in South Africa?
▼
A
Slots online enjoy the most traffic by far. South Africans tend to play a range of casino table games though, with roulette and online blackjack both ranking highly amongst players from the country.
Any top gambling site will offer you a good selection of variants on these popular titles, including live games with a real croupier, and other titles like craps and video poker.
▲
Q
Are the sites regulated?
▼
A
Sites are not allowed to be hosted in South Africa so there is no need for the government to regulate any sites in SA. Any sites played at by South Africans will be regulated by the country they are based in.
▲
Q
What is the tax situation?
▼
A
Gamblers are not required to pay any taxes on their winnings as long as they don't do it as a profession. If the winnings you bring in are treated as a salary or wages then you will need to pay tax. The flip side of that is that any losses incurred during the period of taxation can also be taken into account and offset against winnings.
▲
A
While no online casinos are regulated in South Africa, there are many that are aimed at a South African user base. Many sites will accept ZAR or South African Rands, you just need to keep your eyes open for them.
▲
Q
At what age can I legally play?
▼
A
The legal gambling age in South Africa is 18. That is no different to the online scene so ensure that if you plan to play and win, you are above the legal gambling age and are prepared to submit the required documentation.
▲
Q
What are the best online gambling sites?
▼
A
The best gambling sites are the ones that have been properly vetted and reviewed. Most of them will already be known to you if you look around at trusted sites. The best ones offer fair and regulated gambling across the board.
▲
Q
How do I find the best sites?
▼
A
We offer all of that information to you, right here on our site. Our unbiased and accurate reviews will help you find the top South African gambling site that suits your needs.
▲