2022's Guide to the Top Online Casinos for Craps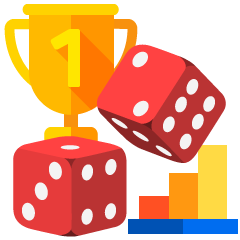 Craps is a staple of all good land-based casinos, however it's not become as popular in the online world. Despite this though, most good online casinos in South Africa still offer this game, and there are quite a few players who enjoy playing this game on a regular basis. It might not be the easiest to understand, however you should have a much better idea about the rules, as well as which online casinos are best for craps players in 2022, once you've finished reading this page.
There are many places to play craps in South Africa, and we've written detailed and unbiased reviews of many of these online casinos. If you're a craps player, you just need to look through the reviews and choose the one that suits your requirements best. To start playing craps quicker though, just head to our top online casino craps site, which is currently .
So, what will you find on this page? Well, you'll learn:
How to play craps online for real money
Which casinos offer the best craps games
Tips for playing craps online
The rules of craps can seem complex at first, however they're quite easy to understand once you've played the game for a while.
Finding South Africa's Top Craps Sites
Looking to find the best online casino to play craps at? If so, you're on the right page, as you'll find the sites we think are best right here. We've decided on these sites for a variety of reasons, however the main thing we've considered when looking for the best craps sites is the quality of the games they offer. We'll only ever recommend sites that offer the highest level of craps to players, and at a variety of different stakes. If live craps is offered to players, that only makes the site an even better one.
Security is also important, and is looked at closely in all our reviews. Then there are the bonuses, as we'll only ever recommend casinos that offer the very best bonuses to players. By playing at a site with great bonuses, you'll always get the most for your money when you play craps online. Don't forget to also check out our blacklisted casinos, just to ensure that you're not about to sign up with a casino that can't be trusted.
How to Play Craps Online
The rules of craps can seem complex at first, however they're quite easy to understand once you've played the game for a while. You'll need to make an initial bet before the dice are rolled, and newcomers are best to simply bet on Pass or Don't Pass. If the roll is then a 7 or 11, those betting on Pass will win even money, while those not betting on Pass will lose. A 2, 3 or 12 will lead to wins for the Don't Pass players. Any other number will be declared the point, and the game will continue.
The point will be marked on the table, and players will then be able to make additional bets. There are many different bets that can be placed in craps, and you'll be able to learn all about them in the specific game's rules. Odds bets and Don't Come bets are two of the simpler types of bets in craps though, and should be the first bets learned by a new player.
Each time a 7 isn't rolled, you'll have the chance to make extra bets on the board, with the most recent number becoming the point. When a 7 is rolled though, the game will come to an end. Don't worry though, as when you play online, a new craps game will start straightaway!
Tips and Strategies for Craps Players
While craps is a game that relies heavily on luck, there are a few things that players can do to increase their chances of winning. The most important of these is to use bankroll management – a technique used by online gamblers of all types. Bankroll management ensures that you're sensible with your money, and that you don't go broke within a few rolls. It basically states that you should only place a certain number of chips on the table – often around 10% of your total bankroll – and should walk away from the table if you lose these chips. By doing so, you won't destroy your whole bankroll in a single session.
You should also try to avoid increasing your bets too quickly. Many people think that, if they're on a hot streak, they should up their bets to take advantage. This is a bad idea though. Instead, you should continue playing at the current stakes, until you've built up a good buffer of profits. Only once you can afford to simply play with profits should you consider raising your bet amounts.
Play Craps Online Today!
Craps is one of the most exciting online casino games around, providing excitement on every roll of the dice. If you've never played craps before, you'll be able to work out the rules by playing free play games online, however if you've already mastered the rules, you'll find craps games at a variety of different stakes. So, to start playing this fantastic game, look through our list of the top South African real cash craps sites, and sign-up with one of them today!

FAQs
Q
Is online craps legal in SA?
▼
A
The South African government has banned most forms of online gambling, however it is a ban in name only – it's rarely enforced, and many people in SA still gamble online every day. Some might find it difficult to deposit via more traditional means, as the payment companies have stopped transactions with online gambling sites, however there are many other options available.
▲
Q
What is the best online craps site?
▼
A
There are many fantastic online craps sites available to players in South Africa, and we've listed the best of them here on this page. So, to find the best online craps site for you, you just have to read through the reviews of our recommended sites, before then signing up. You'll then be able to start playing craps almost straightaway.
▲
Q
Is it easy to play craps online?
▼
A
Playing craps online is even easier than playing it at a land-based casino, as you dictate the pace of the game. The rules can look complex to start with, however you can learn these while playing the game with free money at most sites. Once you are more confident, you can then start playing the game using your own real money.
▲
Q
How much can I win playing craps?
▼
A
The amount of money you can win playing craps really is unlimited, because money is won over a series of games – so the more games you play, the more money you could win. Once you've learned the RTPs of each bet type, you'll start to realise that some are better than others, and this will increase the amount you win.
▲
Q
Is it safe to play craps online?
▼
A
All the sites we've recommended are completely safe to play at, therefore meaning that you can safely play craps online when you play at a site we've approved. All recommended sites are regulated by a reputable external organization, plus all have also had the random number generators used by their games verified by an impartial company.
▲
Related Pages