Top 10 Tips for gambling in online casinos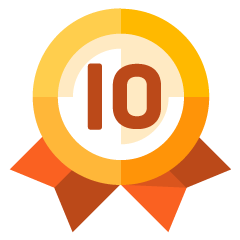 If you're ready to have some fun but have no idea where to start, our list of top 10 tips for gambling in online casinos will help get you started! Armed with all the info you need to pick a good SA casino, plus simple advice to help you get the most out of your online gambling experience, you'll discover that gambling online in 2022 is easier, safer and way more enjoyable than you think.
1

Pick a reputable casino

The first and most important choice is to pick a trustworthy online casino with a great reputation, just as you would choose a live one. With a bit of research you'll start to discover that the best online gambling sites are well-known, recommended by gamers, regularly reviewed and affiliated with reputable organisations.

Five ways to pick the best online casino for beginners:
Read as many reviews as possible
Browse sites that review casino performance and customer service
Verify where sites are registered and licensed
Read the site's security policy, which should link to reputable developers
Take note of the deposit and withdrawal methods at real money gambling sites
2

Play games with a poor house edge
the best odds then you can make money too! Choices like Blackjack, Video Poker and Baccarat have a poor house edge and are therefore great for players.
Coming in at number three on the list of top 10 tips for online casino gambling is one of the most important. Manage your finances. Chasing losses is a negative strategy that involves trying to win back money that's already been lost by betting even more. It can become very frustrating and is more trouble than it's worth. Instead of trying to win back cash when you're having a bad day gambling online, log off and regroup.
Stay focussed while you play and you'll have a lot more fun. Many experienced players will agree that the consumption of excessive alcohol while betting is a terrible idea, which is why drinking while betting has made it onto our list of top 10 tips for casino online gambling as a definite what not to do. All it takes is one too many for your accuracy and judgement to become compromised. If you're playing for real money it's worth keeping your head.
5

Learn table game strategy
Pick a table game, like Blackjack, and learn all you can about it. Seasoned SA gamblers will agree that understanding the strategy and probability of a game is key to success. There's no harm in playing for fun, but if you're serious about winning then approach is everything. Top casinos online often offer free practise sessions for players, which is a great way to pick up tips for online gambling in casinos.
Thanks to the advanced software, online gambling in 2022 looks better than ever, so it's a good idea to keep track of your wins and losses before you get caught up in the moment. Remember that, although you're playing in cyber space, you're still winning and losing real money. Set a strict daily betting limit before you log on, and cut yourself off once you've reached it.
7

Don't play when you're tired
One of the most obvious, but also most important top 10 tips for online casino gambling is to listen to your body. Just as you should avoid letting alcohol cloud your judgement when betting online, playing a good game also requires you to be alert and awake. Don't play if you're feeling sleepy, agitated or emotional.
8

Look for a good welcome bonus
Operators offer a wide variety of top promotions and bonuses to first time players, so keep an eye out for what's on offer. Take advantage of no deposit bonuses, which enable you to play before you deposit any of your own cash, welcome bonuses, which match what you deposit, and free spins and loyalty points.
9

Use free play to practice
Before you play, most online gambling sites also offer a complementary trial period or free play benefit on some of their games. This helps you practise and familiarise yourself with how it all works before depositing any cash. Look for free play or demo versions on a website to see the latest offers for 2022.
Taking a short break while gambling online
Doing another activity like cooking or exercising
Keeping track of your daily limits and bets
Setting a time limit for when you play
Now that you've read through the list of top ten tips for gambling in online casinos, sign up to enjoy a great welcome bonus and try your luck at one of the finest online gambling destinations in South Africa. Have fun!
Last but certainly not least on our list of the top 10 tips for casino online gambling is knowing when to quit. The real trick to having fun is to know when, and how, to stop playing. A few suggestions include:
Related Pages