Master your own online gambling blackjack strategy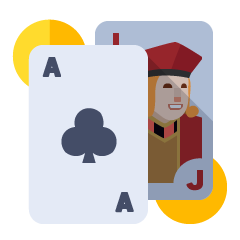 It's one of the most popular games of all time, played in casinos around the world and favoured by South Africa beginners and seasoned professionals alike. But in blackjack, decision making, fast thinking and a thoughtful approach is the key to winning real money, so if you're an SA beginner looking to put the odds in your favour, develop your own winning online gambling blackjack strategy with the following simple tips and advice.
Read more about:
Basic blackjack strategy online gambling tips
Variants of the game in 2022
Betting for beginners and insurance
Some Background on Blackjack
Blackjack is often called 'twenty-one' because 21 is the number you need to come closest to in order to win. The top three aims of a blackjack game are:
To calculate the best possible chance of winning by studying your cards and the dealer's cards.
To reduce your chances of busting.
To minimise losses by knowing when to surrender and when to stick.
Remember that there's no blackjack strategy in online gambling that guarantees success every time, but learning the basics of the game is the first step to mastering a betting style that works for you.
Start with the fundamentals to develop a solid blackjack strategy for gambling online:
Blackjack can be played with up to eight 52-card decks
An ace can be counted as a 1 or an 11
Tens and face cards are counted as 10
An ace and any 10 point card outrank all 21-point hands
How the game is played
The dealer will give two cards to each player, including himself, one of which is dealt face up
If the dealer has an ace showing he'll offer an 'insurance' side bet, which is optional depending on your gambling blackjack strategy
If the dealer has a ten or an ace, he will look at his second card and immediately flip it over if he has blackjack
Play always begins to the dealer's left
Players have the option to stand, hit, double, split and surrender
After each player has had a turn, the dealer will turn over his remaining card. If he has 16 or less he'll draw another
Players who have not busted win if a dealer goes over 21
If a dealer doesn't bust then whoever has the higher point between the player and the dealer will win
Choose your variant
Blackjack strategy in online gambling isn't a one size fits all approach. Each website is different, and not all casinos offer the same versions. To select the ideal variant for your skill level it's worth looking at a few of the options available.
Basic online gambling blackjack variants include:
Blackjack double exposure, in which both of the dealer's cards are exposed at the start of the game.
Single deck blackjack, played with only one deck of cards.
Blackjack 5 hand, which has the same rules as the single hand game, but you play with 5 hands simultaneously. Try it when you have an advanced betting and blackjack gambling strategy.
Multiplayer, which offers seats to around 5 players and allows you to play against friends.
Progressive blackjack, in which the jackpot increases with every bet you make.
Blackjack switch, where you play with two hands at the same time and have the opportunity to swap cards between them.
Splitting
Although there's no online gambling blackjack strategy that can guarantee a win, there are a few suggestions to stick by as you learn to play the game. For example, when you're dealt your initial two cards in the game, you have the option to split the pair into two different hands and place a second bet. When this happens here's basic blackjack strategy for gambling online:
Always split aces
Never split fours or fives
Split twos, threes, sixes, sevens and nines, unless the dealer's card is 7 or higher
Always split eights
Never split tens and face cards
Doubling down
This is when you're allowed to double your bet after receiving your first two cards. The reason why doubling down is a favourable gambling tactic is because it gives you a statistical opportunity to beat the dealer.
Taking Hits
Deciding when to take a hit or not is something you'll figure out the more you play. There are many different statistical theories out there to help you figure out the safest approach, but here's two top blackjack gambling strategy basics to get you started:
If you have 11 points or less, take a hit. It doesn't matter what the dealer is showing because you can't bust.
If you have 12 or 16 points, take a hit if the dealer has 7 points or more.
Insurance
When a dealer shows an ace from his top card, he will offer players the option to place half of their original bet as an insurance. If the dealer turns over the second card and has 21 then you win your insurance bet. If the dealer doesn't, then you lose the insurance bet. If you're a beginner, gambling online blackjack strategy best practise is to avoid taking insurance during a game, because the odds of the dealer having 21 are so unlikely.
Practise Your Gambling Blackjack Strategy
There's no better way to learn than by playing. Now that you know about how to win real money with a gambling online blackjack strategy, why not try it for yourself at one of the recommended South Africa sites?

Frequently Asked Questions (FAQs)
Q
How popular is online blackjack?
▼
A
If online blackjack isn't the most popular online casino game in the world, it's very close.
The game and all its varieties are a given at even the most basic of online casinos and its simple-yet-addicting nature allows it to be found at casinos based all around the world (including SA).
▲
Q
What are the best online casinos for playing blackjack?
▼
A
There's no true answer to that question as everyone likes different things in an online casino.
But the best ones (like those recommended on this page) all have strong security, generous welcome bonuses, and a large variety of different blackjack games to play.
▲
Q
How does the online game compare to playing at a land casino?
▼
A
Online blackjack has a quicker pace of play than you will find in land casinos.
Other than that, the basic rules of the game are the same, dependent upon what blackjack variety you are playing. Speaking of, you'll also find way more variety online (in terms of game types and betting limits) than you ever will in a land casino.
▲
Q
Is the game popular with South African players?
▼
A
Blackjack is incredibly popular everywhere, and SA is no exception.
At South Africa's top online casinos you'll find a wide variety of different blackjack games, from basic 21 to Blackjack Surrender to Pontoon and much more. The latest blackjack craze even lets you interact and play with a live dealer via webcam.
▲
Q
How much do I stand to win playing blackjack online?
▼
A
That depends how much you are willing to wager and the betting limit of the table (which varies by game type and casino).
Blackjack actually offers better odds than the majority of casino games. If you follow good basic strategy, you can reduce the house's edge to as low as 0.5%.
▲
Q
Are there online blackjack tournaments?
▼
A
Absolutely and they are an exciting way to spice up your blackjack play.
In tournaments, players compete against each other, trying to earn more chips than their tablemates before a given number of hands is dealt. The top performers will advance to the next tables and so on until one winner remains.
▲
Q
Am I allowed to play using a blackjack strategy?
▼
A
Definitely, and that's actually one of the biggest to playing blackjack online instead of in a traditional land casino:
Online you can reference basic strategy cheat sheets and probability calculators as much as you want, while dealers in land casinos probably frown upon (if not forbid) doing the same thing.
▲
Q
Are these online blackjack games fixed or rigged?
▼
A
Every online blackjack casino we recommended has been thoroughly inspected and audited by both us and third-party testing organisations.
Casinos have structured their games so they can profit off them, and even when you follow perfect blackjack basic strategy the house still has a small edge. In other words, they don't need to cheat you to beat you.
▲
Related Pages