Responsible Gambling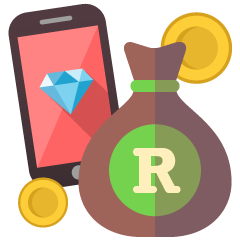 Gambling is a fun pastime and should not be recognised as a money-making exercise. The best way to go about this is by looking at your online casino activity as an entertainment factor. Allow yourself a specific amount to play online gambling with that you can afford to lose and which is within your financial means. The trick here is not to go over this limit should you be on a losing streak. Wait until your next responsible gambling 'allowance' becomes available and then, if you choose to gamble, once again play only with an amount of real money that you can afford to lose.
To ensure you enjoy your gambling online entertainment for years to come, we are going to discuss the following useful topics
What is problem gambling?
How do you recognise problem gambling?
How is problem gambling treated?
South African resources for the treatment of problem gambling
What is problem gambling?
As the law stands in 2022, no-one under the age of 18 is permitted to play on gaming sites in South Africa. Parents need to take precautions for responsible online gambling using the best child protection software such as Cyberpatrol, Net Nanny, Solidoak or CYBERsitter to block gaming sites. Passwords, credit card and bank details should never be shared with under-age children, and gaming sites should not be left open and unattended on home computers.
As misrepresentation of age is fraudulent and an offence, SA gambling websites use various tools to verify the age of a gaming person. Should an are misrepresentation come to light, any winnings may be forfeited. Responsible online gambling practises are paramount, especially within a home where there are children who are computer literate.
Some players become addicted to gambling online and fail to acknowledge this condition. There are many areas in a player's life which will suffer if gambling has become addictive. These include your personal life and the cost to your mental and physical health. The cost to family members and society, in both mental and financial terms, can also be a problem.
If your work situation suffers through your becoming unproductive because you are gambling online then a job loss can become a reality and result in debt.
How do you recognise problem gambling?
Casino staff are trained to recognise responsible gambling online patterns to ensure that their top players enjoy a great gaming experience. If they notice that you are having real money problems then they will intervene and offer solutions to help you.
As a gambler you can recognise your having a problem when gambling takes up a large part of your life. Typically your social behaviour will change as you start spending more and more time at online casinos instead of doing other social activities. Certain signs manifest themselves, which could include health problems, marital issues and problems within your working environment that affect your work load.
Players can adopt other addictions such as alcohol and nicotine, which further exacerbate the condition. Should you be aware of any of these problems then you need to learn about responsible gambling online before a gaming compulsion emerges.
How is problem gambling treated?
Casino staff have various means to assist their patrons in gambling online responsibly. These options include self-exclusion, direct links to organisations, and the availability of other tools and systems to aid in the management of a gaming compulsion. Responsible gambling can be learnt and thus controlled through education and the support of family and friends.
Always set a real money limit that you can afford to lose, and keep track of the amount that you spend. Make use of the best tools and systems available, such as self-exclusion, where the casino freezes your account for a certain period of time. The casino also has links to various organisations to help compulsive gamblers in SA.
Rules to help prevent compulsive gambling
Look at online gambling as a form of entertainment, not a source of income.
Set daily, weekly and monthly limits.
Keep track of the amount you are spending and only play with the amount that you can afford to lose.
Never borrow real money to gamble.
Keep track of the time spent at games.
See a win as a bonus and do not chase losses.
Do not gamble if you have been drinking alcohol.
South African resources for the treatment of problem gambling
In 2022 there are various options for addicted gamblers to be treated. Compulsive gamblers seek the thrill they get when playing. The risk experience gives them pleasure as a result of the brain's release of dopamine, much like that received by, for example, a bungee jump or free diving. Treatment is possible by going into a top rehabilitation centre, especially if the online gambling compulsion is linked to alcohol.
The second option is using a telephone counselling service. Contact HDSA (Home Detox South Africa) on 087 550 1938 for free confidential advice 24/7 or email [email protected]
Related Pages