Change in SA Gambling Legislation gains support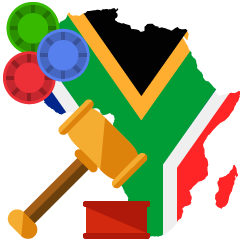 Real money online gambling enthusiasts of South Africa, rejoice! It would appear that we have friends in high places. And those friends are fighting the good fight to help change SA gambling online legislation in our favour.
For those not in the know, I'm referring to the Remote Gambling Bill that was championed by Shadow Minister of Trade, Geordin Hill-Lewis earlier in 2022. Spoiler alert! The proposed bill wasn't approved by Parliament, which means that when it comes to gambling online for real money, SA legislation remains unchanged for now.
So while it's not time to pop the champagne just yet, it's a really positive move in the right direction to have people actively working to change the SA real money online gambling legislation. To refresh your memory on the current status of gambling legislation in SA, let's take a look at
The regulations that are presently in place
How the laws changed over the years
Why these laws are in need of a change
Reasons behind not proposing an amendment sooner
What the new proposed legislation entailed
Where you can find the best sites for South Africans to play
What is the current online gambling SA legislation?
At this time in 2022, the legislation still states that it's not legal for online casinos to offer real money gambling to South Africans. And since there are many online gaming sites that DO in fact offer exactly that, there are clearly some well-used loopholes in play.
Another stipulation that often gets pointed out in the present SA legislation is that South Africans are not allowed to sign up for an account at SA sites for gambling online. Once again this has had little effect on people who enjoy playing the odds, especially since the onus falls on the operators to not accept anyone from RSA, rather than the individual players. So the chances of government randomly deciding to hone in on one particular player is highly unlikely and, frankly, makes little sense.
How has SA online gambling law changed over the years?
Online gambling only started featuring in 2004, when the Gambling Act of 1965 was replaced by the National Gambling Act of 2004. The new Act not only covered land-based casinos like the previous one, but also implemented restrictions on gambling on the internet. Seven years later, in 2011, the Act was amended to include the restrictions we face today, which include the clause that operators cannot legally offer SA online gambling.
Why is there need for a change in legislation?
Online gambling is happening in South Africa, regardless of whether it's legal or not, and continues to grow exponentially.
There is currently no protection for players, something which can be put in place once the industry is regulated.
If SA online gambling is legalised, it would generate considerable tax revenue and boost job creation.
What did the proposed SA gambling online legislation entail?
One of the proposals that Hill-Lewis put forward was geared towards job creation, stipulating that online gambling site operators had to open local offices and call centres in order to run SA sites for gambling online.
Among other things, the new proposed SA legislation for gambling online also stated that licenses provided to these operators should be split between the respective provinces and the National Gambling Board. This would give the Gambling Board room to develop into the role of a strong and centralised regulator which could effectively perform its duties as the overseer of the gambling legislation in SA, protecting players and preventing crime.
While we can't cover the entire Remote Gambling Bill in this article, we believe that the proposed changes to the online gambling in SA legislation had South Africans' best interests at heart, and would've had a very favourable effect on real money online gambling in the country.
We found the best sites where South Africans can play
As we covered earlier, despite the current SA real money online gambling legislation, it is quite safe for South Africans to gamble online. And many do. We've found that the key to a fun and winning experience without any worrying lies in playing at the top sites that have been professionally checked and reviewed.
Following a checklist of stringent requirements, we've identified the top SA sites for gambling online. And now that we've put your mind at ease about gambling online for real money and SA legislation, you can feel free to access those recommended.
Related Pages