Skrill Online Casinos for South Africans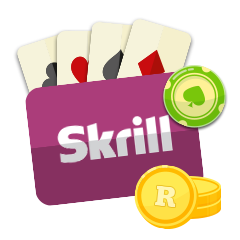 South African online casinos are plentiful and popular. One reason for the popularity of these Internet gaming rooms is that they make it easy for ZA players to fund their accounts using ZAR. Online casinos offer players in South Africa various ways to fund their accounts, including the very popular eWallet Skrill. Skrill, which is used by hundreds of thousands of people throughout the world, is known for being safe, easy, and convenient to use. In fact the top online casino on our shortlist, , which offers hundreds of exciting games and a high rate of return to players, is a real money Skrill casino.
South African players who join one of our Skrill online casinos enjoy:
Big bonuses, exciting promotions and generous rewards
A secure and fair gaming environment
Personalized and professional customer service
As far as speed goes, you'll be able to transfer Rands within seconds from your Skrill account into your South African online casino account. That means that you'll always have cash on-hand for the casino games that you love to play.
Using Skrill Online
If you're skittish about using Skrill online, you should not be. The fact is Skrill is exceptionally easy and safe to use, as it's designed to protect the users personal information, including items such as account numbers and online banking password. Skrill protects such information by the very fact that when a South African online casino players makes a deposit using this eWallet they never have to supply any of their personal information.
Creating a Skrill account is safe, easy, and free. Go to the Skrill website and select the prompt "open a free account." It takes just a few minutes to establish your account. Once you provide Skrill with various types of information, such as your email, name, phone, and address, and you're able to verify your account, you'll be able to fund it.
Skrill may be funded through your savings or checking account or with your credit or debit card. If loading your account through your bank, you need to leave two to four days for the transfer to take place. If funding with a credit or debit card, the results.
Why ZA Players Like Skrill
South African real money online casino players like to use Skrill for many reasons. It's true that this is a fast and secure way for ZA players to transfer funds into your online gambling account. Most of the time there are no fees associated with Skrill. There may be a small charge when you upload cash into your Skrill account, depending upon from where the funds originate. This is usually around 1.9%. Also, there is a 1.9% fee associated with funds sent to an email, transferred to another site, or deposited in another Skrill account. The fee for currency conversion averages 2.99%. There is no fee to receive money, although your online casino may have a charge associated with such a transaction. All in all, this eWallet is extremely inexpensive to use.
As far as speed goes, you'll be able to transfer Rands within seconds from your Skrill account into your South African online casino account. That means that you'll always have cash on-hand for the casino games that you love to play. Many ZA online casinos also allow players to make withdrawals through their Skrill accounts.
It takes longer to process withdrawals than it does deposits. There are two reasons for this. Due to your online casinos concern for your safety and security, there's usually a waiting time that ranges from one to three days. Plus, the actual transfer of funds takes from one to three days.
Mobile Casinos and Skrill Banking
If you're a mobile casino player, you'll be glad to know that you can still access your online casino account, make cash transfers and withdrawals through Skrill, and enjoy all of the benefits afforded you when playing on your computer. South African mobile Shrill casinos may be enjoyed on your Smart Phone or tablet. Most ZA mobile casinos are available to Android, iOS, and Windows phone users with full banking services. Some also accommodate Blackberry users.
Many players like to play casino games on their tablets. The devices are lightweight while the screens and controls are much bigger and easier to manipulate than a phone's. Some tablets that South African players prefer include Galaxy tab S, Apple iPad Pro, and Microsoft Surface Pro 4. Popular mobile phones include the Samsung Galaxy S8, HTC 10, Google Pixel XL, and Apple S7.
Very Best South African Skrill Online Casinos
If you're in the market for a Skrill South African online casino, please take a moment to read through our list of featured gaming rooms. Each of our select online casinos offers your favourite real money games, such as roulette, blackjack, slots and more. Our Skrill casinos make it effortless for South African players to use the ZAR when gambling. Become a member of one of our shortlisted casino and use your Skrill account to fund your account, get great bonuses and have an exciting online casino experience.

Skrill Online Casino FAQs
Q
What type of funding source is Skrill?
▼
A
Skrill is an eWallet that is accepted around much of the world.
▲
Q
How does this eWallet function?
▼
A
After going to the Skrill site and setting up your eWallet, you may fund your Skrill account through your bank or a credit or debit card. Once funds are in your Skrill account, you may use them.
▲
Q
May I use Skrill at a South African online casino?
▼
A
Yes, this is a very popular way to fund online casino accounts.
▲
Q
Is my information protected when I use Skrill?
▼
A
One of the aspects of Skrill that South African players like is the fact that this eWallet protects their personal and financial information. Skrill never shares any of your data with a third party and they use some of the very best security software in the world.
▲
Q
How long does it take for a deposit to clear and withdrawal to be completed?
▼
A
Deposits into your online casino account usually take just a few minutes, which means your Rands are available virtually immediately so that you can gamble whenever you want. Withdrawals take one to two days, but you must add another two to four days onto that timeline, as online casinos carefully process such requests to guard against any possible fraud.
▲
Q
How does this funding source compare to others?
▼
A
Skrill is highly competitive with other types of funding methods including other eWallets such as PayPal, credit and debit cards, and prepaid debit cards. It is effective and efficient, has low fees, and is completely safe and secure. With Skrill there is no fee for receiving cash. This contrasts with PayPal, which does charge a fee when you receive money.
▲
Q
Does Skrill charge any type of fee?
▼
A
There is no charge for creating your Skrill account. Also, when you fund your Skrill there may or may not be a charge. This depends on the method you use. There is a fee for sending cash. This is usually 1.9%. There is no fee for receiving money.
▲
Related Pages