EcoCard South African Online Casino Banking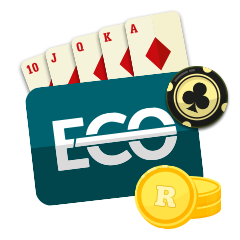 EcoCard is a favourite funding method for many South African real money casino players. This is a pre-paid debit card that is designed to work quickly, efficiently, and safely across the worldwide web. Because it is in essence virtual cash, when you use your EcoCard at an online casino you'll find that your account is credited instantly. In no time at all, you'll be playing the slots, video poker machines, and casino card and table games that you love. Of our shortlisted EcoCard South African online casinos, we suggest that you take a good and hard look at our top-rated gaming room, , which has high payout rates, the best games and software, and fantastic customer service and security.
All of our EcoCard online casinos for South African players:
Offer the biggest bonuses and best customer service
Have lots of action with quality slots, table games and more
Are respected for being safe, fair and secure
When you make an EcoCard deposit at your South African online casino it is virtually instantaneous. That means that you'll be able to play the casino games of your choice without any delay.
EcoCard Basics
The EcoCard is very easy to get. If you're in South Africa, simply go to the EcoCard website and create your account. Once you have filled out the application form with the necessary information, you'll be asked to confirm your account. Once confirmed, you may fund your account and transfer Rands to your online casino. In no time at all, you'll be playing the most popular casino games, including baccarat, blackjack, craps, and roulette. Plus, you have access to real money slots, including those with massive progressive jackpots.
Your EcoCard Account
Using your EcoCard is easy. Once you've activated your account, you may fund it in various ways. EcoCard allows users to fund their virtual debit card through their bank account or a credit or debit card. Transferring funds from your bank account, either checking or savings, can take one to four days, while credit and debit card transactions will occur much more quickly, within 24 hours and often immediately.
Why ZA Players Like It
South African players who use EcoCard like the fact that if they are funding it with cash from their bank account or a debit card, they are playing with real money and not on credit, as they would be if they funded their account with a credit card. Plus, when you use EcoCard there is never any need to share your credit card or bank information with your online casino.
When you make an EcoCard deposit at your South African online casino it is virtually instantaneous. That means that you'll be able to play the casino games of your choice without any delay. There is no waiting for funds to clear. Also, EcoCard is flexible. Along with allowing deposits at online casinos, you may, depending upon your gaming room, be able to withdraw funds through your card. Finally, many South African players like the low transactions fees that this method offers, from 2% to 4%. As noted, there are no setup or membership charges.
EcoCard and Mobile Play
If you are one of the many South African online casino players who enjoy engaging in real money games on your mobile device or tablet, then EcoCard will serve you well. If your online casino accepts this payment method, so too will their mobile site. Additionally, when you play on your mobile phone or tablet, there's no need to create a new account, ID, or password. Everything, including your account balances and banking data, can be accessed through your Smart Phone or other such device.
If you elect to go mobile, you'll find that South African mobile casino games may be played on hundreds of different devices. These include a wide range of Android, Windows and iOS phones and tablets. Many ZA casinos may also be played on BlackBerry devices such as the BlackBerry Passport and BlackBerry Porsche. Popular Androids include the Pixel XL, Samsung Galaxy S8, and Motorola Moto Z Play. Windows Phones utilized by ZA online casino players are numerous and include the HP Elite 3, Microsoft Lumia 650, and Nokia Lumia 930. Apple iOS devices that are often utilized by players are the iPhone S7 and S6.
Top EcoCard South African Casinos
If you're a real money South African online casino player who wants to make sure that your account is topped off when you want it to be, then consider using EcoCard. It is reliable and safe, carries low fees, and is accepted by many of the very best South African online gaming rooms. Use this card to set weekly or monthly gambling limits, keep track of your deposits, and ensure the safety and security of your bank accounts and credit cards. Remember, when you use EcoCard you never have to share your personal financial information with your online casino. That fact gives players concerned about security and fraud extra peace of mind.

EcoCard ZA Casino FAQs
Q
What exactly is an EcoCard?
▼
A
EcoCard is a virtual debit card that you fund from another source and use online to make fast, secure, and safe payments.
▲
Q
Can you please explain the manner in which EcoCard may be used?
▼
A
The EcoCard may be used like a debit card. Once you set up your EcoCard account online, you simply fund it using your bank account or debit or credit card and then pay using EcoCard. Funds are transferred instantly to the merchant, which means that payment is completed quickly.
▲
Q
Are online casino payments allowed using this virtual debit card?
▼
A
Yes, EcoCard does allow payments to South African online casinos using the ZAR. That's very good news for South African players who like the fact that there are no currency conversions fees associated with this payment method and cash transfer fees are low.
▲
Q
How safe is it to use online at South African casinos?
▼
A
EcoCard is a very safe payment method. This funding and cash transfer service allows players to protect their credit card and banking information and data. You will only share this information, and in a minimal manner, with EcoCard. No third party will have access to your personal information when you use this funding method.
▲
Q
Are deposits & withdrawals speedy?
▼
A
Once your EcoCard is funded, you can make a deposit into your online casino account and have it confirmed in a matter of minutes and, sometimes, even seconds. It's that fast. Withdrawals, if allowed via this method by your casino, take from one to three days. However, online casinos do have waiting periods for such transactions, as they want to ensure that no fraud is taking place. Thus, the total amount of time for a withdrawal is about four to five days.
▲
Q
Can you offer information on how it compares with other payment methods?
▼
A
In many ways, it compares well with debit and credit cards, eWallets, and Instant Banking services. It is especially safe due to EcoCard's focus on security, which is reflected in the encryption software they utilized, fraud dedication tools, and security personnel. As it is with other such services, there are no set up charges and the fees for financial transactions are equal to those associated with services and methods such as PayPal. Also, online casino deposits made with EcoCard are virtually instantaneous.
▲
Q
What sorts of fees are associated with this card?
▼
A
There are no setup fees with EcoCard and no membership charges. There are fees charged for transactions. These range from 2% to 4%, which is well within industry standards.
▲
Related Pages