Gambling statistics for South Africa – 2022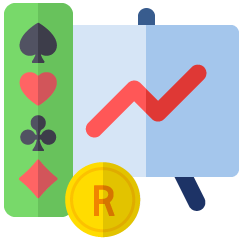 When looking at an overview of the real money gambling statistics for South Africa, one thing becomes abundantly clear, and that is that we South Africans love a game of chance. And we're not alone. The world over, people take on Lady Luck for the rush of anticipation, the thrill of the unknown and the satisfaction of beating the odds.
When it comes to online gambling statistics for South Africa, the numbers are not quite as easily obtainable. Due to the fact that wagering on website casinos is not permitted within the borders of RSA, there is no regulation of the industry or its operators, which makes statistics for gambling online for real money in SA a guestimate at best.
But let's take a look at some of the SA gambling statistics that we do have, like
What the national gambling turnover is
Where the average payout rate lies
How land-based casinos would be affected if online gambling was legalised
Predictions for gambling statistics in 2018
Where you can get access to the top real money online casinos in SA
So just how much turnover is generated by casinos?
While a search for up-to-date SA gambling statistics for 2022 proved largely unsuccessful at this time, one can still get a clear picture of the sheer size of the gambling industry by looking at the official statistics from two years ago. According to PriceWaterhouseCoopers research, the casinos in South Africa generated R17.2bn in 2014. And since it's all legalised, regulated and controlled, the tax man gets paid a healthy sum of R2.1bn through levies and taxes.
What is the average payout rate at casinos?
SA gambling stats on turnover show that casinos retain on average around 6.6% of the amount wagered. For all the gambling categories combined, the payout rate averages around 92.8%. Since real money gambling operators generally pay out more than 90%, they need high volumes to make a good profit. Factor in variables like the economy and competition from other gambling institutions and you get to understand that percentages really come into play here, as even a small loss in turnover can have a big negative impact on profitability.
What is the average payout rate at online casinos?
Unlike land-based casinos, whose payout rate averages around 92%, SA real money online gambling statistics show that most online casinos have a payout ratio of between 95% and 98%.
The payout percentage varies depending on the type of game, so it's always a good idea to check that first, before trying out a new game.
Online casinos can afford higher payout percentages due to the fact that they don't have the huge overhead costs that land-based casinos have.
What effect would the legalisation of online gambling have?
Real money online gambling stats for South Africa show that the popularity of online gambling is growing steadily. And with only 37 online casinos currently operational in South Africa, it's no wonder that people prefer the ease of logging on and gambling at top online casinos in the comfort of their own homes.
This is, however, not great news for land-based casinos, according to the Casino Association of SA. CEO Themba Ngobese says the fact that online gambling statistics for South Africa are looking favourable means that the land-based gambling stats for South Africa are taking a beating. According to Ngobese, if only 5% of all gambling revenue is going into online gambling, it would represent about R110m in lost tax revenue for SA in just one year.
One could argue that this is one of the best reasons for legalising and regulating the online gambling industry in South Africa. When looking at the real money online gambling statistics for South Africa, it's clear that this would enable government to earn billions more in tax every year, instead of losing out in an industry that is steadily growing, despite legislation preventing it from doing so.
Online gambling statistics for South Africa - 2018 predictions
While SA real money online gambling statistics seem to overpower those of traditional casinos, the future for land-based casinos is still promising. Looking ahead at gambling statistics for South Africa in 2018, the National Gambling Board projects that casino gross gambling revenues will rise from R16.5 billion in 2013 to R20 billion in 2018, a 3.9% compound annual increase.
We've found the top online gambling casinos for South African players
As the statistics for gambling online for real money in SA show, the industry is here to stay, and will continue to grow from strength to strength. Make sure you play only at the best online casinos in South Africa with great bonuses, impeccable security and top-line games and payouts by choosing one from our exclusive list.
Related Pages