Gambling online at blacklisted casinos - what every player should know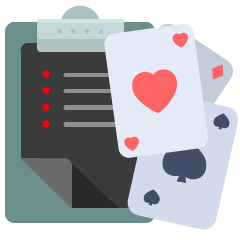 As fans of South African online gambling, and experts in the field of betting websites, we spend a lot of time rating and reviewing internet casinos for your benefit. That's why you know when you visit us, you'll find every guide you need to the 2022 top online gaming sites, where to play, what to look for, and how much excitement you can expect. There's one thing we don't talk about a lot though, and that's online gambling at blacklisted casinos, a practice you should avoid at all costs. That's why we think it's important to bring you a definitive guide to rogue casinos, and give you the relevant details you need in order to make an informed decision about your online betting.
While the South African online gambling industry is filled with world-class, premium quality gaming venues, there are nevertheless a number of sites offering a less than stellar player experience. That's why we rate and review our online casinos so thoroughly, to make sure that no blacklisted casino online gambling sites slip through. Take a look at our guide to blacklisted casino gambling online, learn which practices to keep an eye out for, and find out:
Why gambling at blacklisted casinos is to be avoided
Which blacklisted casino gambling online sites to stay away from
What to look for in reputable online casinos
Understanding blacklisted casino online gambling
At Gambling.co.za, the number one thing we look for in a top online casino is how it treats its players. Does it offer them the biggest bonuses, the latest games, stringent security methods, quick and easy cashouts, fair and licensed gaming, and optimal levels of customer service? These are just some of the criteria by which we review our recommended online casinos, and we consider them vital when giving our best seal of approval. However, should we discover a site more concerned with its profits than its players, and indulging in dishonest or disreputable practices as a result, we will do everything necessary to alert you to its methods and keep you from inadvertently gambling blacklisted casinos.
In general, there are four main criteria by which we assess whether or not to investigate a casino's practices further:
Payment delays, or refusal to honour cashouts
Flawed Random Number Generators or fraudulent software
Spamming, or any marketing that does not follow best practices
Little to no customer support
If you are experiencing repeated difficulties in any of these areas, it may be worth contacting either us or the website's regulatory body in order to protect both your real money account and your fellow players' best interests. Once a thorough investigation has been done and the gaming site has been reviewed by independent auditors you may find it joining the dubious company of online gambling blacklisted casinos.
Blacklisted casinos and online gambling sites to look out for
While there is no substitute for in-depth research when it comes to identifying potential online blacklisted casino gambling websites, there are a number of venues you should pay attention to as a South African player. For starters, you may remember the Crystal Palace Group, home to Jackpot Cash and Silver Sands Casino, and once a top SA gaming network. Today, thanks to dishonest practices and scamming by its operator, who eventually died of a heart attack, the Group is no longer in operation, having had its casinos either sold or rebranded as Ace Revenue Casinos.
You may have also heard of African Palace Casino, a favourite of SA real money players until they stopped paying monthly instalments to one of their biggest jackpot winners. Despite taking her case to Carte Blanche, the winner never received the full share of her jackpot, and today African Palace Casino is still in operation, albeit under management by a different group. It may not be officially recognised as an online blacklisted casino gambling website, but it may be wise to take your real money bets elsewhere just in case.
How to avoid gambling at blacklisted casinos - stay vigilant
While compiling a comprehensive list of every rogue gaming website on the internet is a near impossible task, a simple Google search will reveal extensive lists of gambling online blacklisted casinos to steer clear of, including sites such as:
AbsolutePoker - Fraud, collusion and cheating
Brandy Casino - Excessive spamming
Class1casino - Non-payment of player winnings, changes to terms and conditions
GoldenCasino.com - No response to player complaints
Indio Casino - Slow payments and inferior customer service
LasCasinoVegas - Not following marketing best marketing practices
Maxima - Changing wagering and cash out requirements mid-play
Sunshine Bingo - Non-payment of player winnings
Vegas2Web - Slow, delayed payouts
Virtual Casino Group - Slow, delayed payouts
Of course, if you're worried that you may be playing at a rogue site, or wish to move your play to a gaming website you can be certain is 100% reputable, there's only one thing to do - take one of our recommendations! Our experts have done exhaustive research into the best 2022 South African casinos on the internet. So when you're playing at one of our number one picks, you know it's a referral you can trust. Take the safe bet and play at any of our approved online gaming sites today and enjoy exhilarating winnings and complete peace of mind.
Related Pages