Everything You Need to Know About Online Gambling Apps in 2022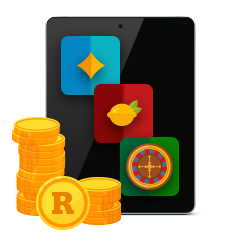 Gambling using a mobile device is something that more and more people are doing nowadays, and one of the most popular ways to gamble when out and about is using an app. Online gambling sites in South Africa have realised that apps are an important feature of their mobile offering, which is why more and more sites are beginning to release mobile gambling apps for players to download and use.
Some gambling apps are better than others though, and this page will show you which online gambling apps are the very best around. So, just read through the reviews of our top gambling sites with mobile apps, and you'll be able to choose the perfect site for you! We find that usually ticks all those boxes. Then you'll have the chance to gamble wherever you happen to be, simply by getting out your phone or tablet and tapping the screen.
On this page, you'll find out:
Which apps are best for mobile gamblers
How to play if a site doesn't offer an app
Which types of mobile devices have apps available
More and more sites are beginning to release mobile gambling apps for players to download and use.
Finding the Top Mobile Apps in SA
If an online gambling site offers an app to its players, you can be pretty sure that they'll advertise it heavily on their site. After all, they want all their players to download the app, as it means that they'll gamble more regularly. All sites will also claim that their app is fantastic, and that it should definitely be downloaded. So, how do you cut through the claims and work out which online casino app is the best for you?
The answer is simple: you just need to read through the reviews on this site, each of which has a comprehensive mobile section. In this mobile section, we'll tell you if a site offers an app, and how good this app is. You can then head to The App Store or Google Play, depending on the device you own, and download the app. Remember: there's nothing wrong with downloading multiple apps for different sites, and giving yourself access to the largest range of mobile casino games possible.
The Devices You Can Use with Gambling Apps
Technically, you can download mobile casino apps onto any device, however the majority of online casinos only offer apps on two different platforms. The first of these is on the Apple platform, and any apps can be downloaded from The App Store. As Apple phones and tablets are the most popular in the world, you can be sure that if a site offers an app, it will be available on iOS. Any good Apple online gambling app should be free to download to your iPhone or iPad.
The other platform that often has online gambling apps is Android, and this is the operating system used by many of the world's top phones and tablets, including those from Samsung and HTC. Like Apple apps, all gambling apps found at Google Play should be completely free to download. If you do see an app that costs money, you should avoid it, as it won't be from one of the reputable online gambling sites.
If you don't own an Apple or an Android device though, there's no need to worry. Some online gambling sites will offer apps to those using Windows Phone devices or BlackBerry devices, but even if they don't, you can still play using a mobile. Just click on the browser and type in the URL. This will then usually take you to a mobile-optimized page.
Staying Safe While Gambling with an App
Your safety and security is one of our top priorities, which is why we want you to always gamble safely with any mobile app. The main rule to follow is this: you should only use a mobile app from one of our recommended casinos, as we've checked them out, and made sure the app is a safe and secure one. Also, as already mentioned, never pay for an app, as this is a sure sign that it's not an app being offered by a reputable online gambling company.
You should also be really careful when inputting any personal information, such as your bank details, into an app. To take away the risk of your details being stolen, you should only input these details when connected to a network you trust, such as your own Wi-Fi, or that of a friend.
Download a Great Gambling App Today!
Do you think that playing using your mobile device could enhance your online gambling experience? If so, you should definitely download a mobile app today, from one of the online gambling sites we've recommended on this page. Once you've competed the download, you'll have the ability to play your favourite casino games, wherever you happen to be!

FAQs
Q
Is mobile gambling legal in South Africa?
▼
A
This really depends. Online sportsbooks are legal in South Africa, however other types of online gambling aren't. Despite this though, many people still gamble online every day, as they know that they won't be prosecuted, and many online casinos and other gambling sites are happy to accept players from SA.
▲
Q
Which sites offer the best apps?
▼
A
This really comes down to your own personal preferences, as there are many gambling sites offering great apps to players in South Africa. To find out which app is going to be best for you, we suggest that you read through our many online gambling site reviews, each of which has a dedicated mobile gambling section.
▲
Q
Which devices can I use to play at a casino?
▼
A
You can use pretty much any mobile device to play at an online casino, providing it is connected to the internet and has a touch screen. Those with Apple and Android devices will find that they can get the majority of apps, and that they can reach the site via their browser. Those with other devices will have to simply use their browser though, which will take them to a mobile-optimized site.
▲
Q
Can I deposit funds using an app?
▼
A
Previously, it wasn't common for mobile players to be able to deposit and withdraw using their mobile device, however most apps now offer this facility. This means that mobile players will be able to add and withdraw funds using many different methods, and some casinos even allow players to deposit using their mobile phone bill.
▲
Q
Are online casino apps safe?
▼
A
Yes, they are completely safe, providing you only ever play at one of the online gambling sites we've recommended here on this site. This is because we've looked at the security features offered by all the gambling sites we recommend, so you can be sure that they're safe. To keep yourself safe, make sure you only input personal information when connected to a trusted internet connection though.
▲
Related Pages