Citadel Instant Banking at South African Online Casinos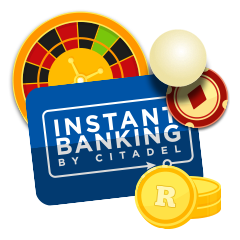 If you're a South African real money online casino player who enjoys slots, roulette, craps, blackjack and other casino games, you'll want to be able to fund your account whenever you want to and in a matter of minutes. Many South African players who want to do just that are using Citadel. This cash transfer service is available in over 30 countries. Citadel, which is accepted by ZA online casinos, is a safe and secure way to bank. You'll find that our top-rated South African online casino, , which offers hundreds of slots, including some of the biggest and most exciting progressive machines, gladly accepts deposits through Citadel.
Our South African real cash Citadel online casinos:
Are verified as being safe, fair, and secure
Provide hefty welcome and reload bonuses and major promotions
Offer hundreds of casino games, including top progressive slots
Citadel is totally secure as you never have to share any of your banking information with the casino and any banking information that Citadel receives is completely eradicated from the site a few seconds after your transaction is complete.
Getting a Citadel Account
Setting up a Citadel account is very easy. First, go to the Citadel website where you'll be able to create your account. This will take just a few minutes as you provide them with some basic information, such as your name, email, phone number, and address. Once you've created your account and verified it, you'll be able to start using it. This is an exceptionally fast and very secure way to deposit cash into your real money South African online casino account.
Funding Through Citadel
There are often various ways that one can access a service such as Citadel. The most common one involves you going to your real money online ZA casino's cashier page and selecting Citadel as your funding method. Please note, rather than being identified at Citadel, this service may be called Instant Banking, Direct Banking, or Internet Banking.
Once you select this service, you'll be taken to a new page where you'll be asked to select your bank from a list provided by the casino. You'll then be taken to your bank's website where you'll log in and transfer cash through Citadel to your online casino account. Your banking information is never shared with anyone, although Citadel will access it for a moment. Also, the Instant Banking service never keeps any of your banking data. You may also use your credit or debit card with Citadel.
The transfer of cash will be made instantly. After the transfer has been completed you'll be asked to confirm the transaction with your bank. After that, you can play all of your favourite online casino games, such as blackjack, roulette, and baccarat as well as slots and other games.
The Benefits of Instant Banking
South African players who use Citadel like it because it there's no setup fee and it's easy to create an account. Plus, it is totally secure as you never have to share any of your banking information with the casino and any of your information that Citadel receives is completely eradicated from the site a few seconds after your transaction is complete.
Citadel charges a small fee for the transfer. You will want to check with your online casino and bank to see if they have assigned any fees for Instant Banking money transfers. Another thing that real money South African online casino players like about this service is that often they can use it to withdraw their winnings from their gaming room account.
Finally, when you make a deposit with Citadel, money is transferred in a matter of seconds and credited to your online casino account instantly. Withdrawals using this service are fast too. Most withdrawals using Citadel take about two days. Please note that the two-day timeframe does not include the two to four day waiting period imposed on all withdrawals by online casinos.
Mobile Casinos and Citadel
If your ZA online real cash casino accepts payments from this Citadel, then you will be able to use their services when you play on your mobile phone or tablet. To access your online casino's mobile games either navigate to the site using your device's web browser or download and install their app. Along with playing your preferred slots and table and card games, you'll be able to access banking services through your casino's mobile site.
South African mobile casinos are accessible through iOS devices, such as the iPhone 6 or 7 and iPad Pro; Androids, including the Samsung Galaxy S7 or S8 and Samsung Galaxy Tab S2, and Windows Phones, such as Microsoft Lumia 640 XL or Lumia 550 and Microsoft Surface. Some casinos may also be played on BlackBerrys such as the Unlocked BlackBerry and Priv.
Best South African Citadel Casinos
To locate a premium South African Citadel real money online casino, simply utilize the shortlist of gaming rooms on this page. Each of our featured casinos offers the best and most exciting slots, including progressives, table games, such as roulette and craps, and casino card games, including blackjack and baccarat. Remember that when you use Citadel to fund your online casino account you'll instantly have cash with which to gamble, will pay low fees, and enjoy the finest security possible.

Citadel FAQs
Q
What is Citadel or Instant Banking?
▼
A
This is a method for transferring money from your bank or a credit card to a merchant or service provider. It is, as the name suggests, "instant." In a matter of minutes any payment you make with Citadel will be received and confirmed.
▲
Q
Can you describe how to use Citadel?
▼
A
Simply go to the Citadel website and set up your account. After doing so and having you account confirmed, you may begin using this payment service immediately. When you locate a merchant who accepts payments using Citadel choose that method of payment and fill out the necessary details to complete the transfer of funds from your bank account or credit card. When you use this service you never expose your bank account or credit card information to a third party.
▲
Q
Can I make online casino deposits using this service?
▼
A
Yes, as long as your South African online casino accepts Citadel, and many do, you'll be able to transfer funds into your account. Citadel is accepted by thousands of merchants and service providers in over 30 countries.
▲
A
Citadel is exceptionally safe. This is due to the fact that you never share any of your personal or account information with a third party. Citadel will utilize this information but just monetarily. They never save or store your banking or credit card information.
▲
Q
Do deposits or withdrawals take long using this service?
▼
A
Deposits are very fast. Once you fill out the necessary information required to make a deposit at your South African real money online casino and select the transfer option, your cash will be in you casino account and confirmed in a matter of minutes.
If you are able to withdraw cash using Citadel, and this varies from casino to casino, you will usually receive your money one to three days after processing takes place. Of course, whenever you make a withdrawal at an online casino that casino will take a few days to verify the information. The waiting time on processing is usually between one and three days. This is to prevent fraud.
▲
Q
How does Citadel compare to similar services?
▼
A
Citadel compares nicely to other cash transfer services. They are very easy to use, exceptionally safe and secure, and have low transfer fees. Like many other quick banking services and eWallets, there are no setup fees. Citadel does allow transfers in Rands, which means there are no conversion charges for depositing funds at South African casinos.
▲
Q
Do I have to pay any fees with Citadel?
▼
A
As noted, there are no setup fees with Citadel. When you make any real money transfer to your online casino or any merchant or service provider there is a fee associated with that transaction.
▲
Related Pages