A Guide to Payment Methods at South African Online Casinos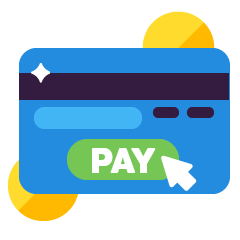 If you're looking to play at an online casino, one of the things you'll need to think about is the payment methods on offer. This is something that many people don't consider, and these people sometimes end up signing up with a site, only to find that the site in question doesn't offer their preferred banking option. Luckily though, most gambling sites in South Africa allow players to deposit and withdraw using a number of different methods, so you should be able to find the perfect place for you to play.
There are loads of online casinos in SA, so finding the best one in 2022 can be tough. Don't worry though, as we've looked through many of them, and given our honest opinions on each. If you're looking for a casino with many different depositing options, we think your best option is , as it offers a large array of ways to deposit and withdraw funds.
On this page, you'll find out about:
The payment methods available to South Africans
How to find the casino with the most payment methods
Why some payment methods can't be used by South Africans
Most gambling sites in South Africa allow players to deposit and withdraw using a number of different methods, so you should be able to find the perfect place for you to play.
Finding a Casino Offering Your Preferred Payment Method
If you want to deposit at an online casino using one of the more common banking methods, such as VISA, MasterCard or Neteller, you should find that the vast majority of sites accept your chosen payment method. After all, why would they want to miss out by refusing to accept payments from the most common methods? It can be a little tougher finding a casino if you want to use a slightly less common payment option though, but this is where we can help you.
We've looked through a huge number of the different South African gambling sites, and written detailed reviews on them. In these reviews, we'll let you know all the banking options offered by a particular site. So, if you see the method you want to use listed on our page, you will know that the site could be a good choice for you! We'll also let you know if there are any charges attached to depositing or withdrawing at a site, so you can avoid fees as much as possible.

FAQs
Q
Is online gambling legal in South Africa?
▼
A
Online gambling is not technically legal in South Africa, as is the case in many others countries in the world. If you're in South Africa though, there's no need to worry, as these rules are rarely enforced, meaning that many South Africans still gamble online every day. Depositing isn't always possible using credit/debit cards, however other options are available.
▲
Q
What is the best banking option?
▼
A
This is really down to personal preference, as the different payment options all have their own advantages and disadvantages. Some players won't necessarily be able to use their preferred payment method though, thanks to online gambling laws in South Africa. If this is the case, look through the other payment methods listed on this page, and choose a suitable alternative.
▲
Q
How long do deposits and withdrawals usually take?
▼
A
Deposits are generally instant at online casinos, as casinos want you to be able to play as quickly as possible. Withdrawals usually take longer though, with most sites taking around 48 hours to process each withdrawal request. Once requests have been approved, your money is usually paid to you instantly.
▲
Q
Is depositing money at a casino safe?
▼
A
Yes, it certainly is, providing you play at one of the online casinos we have recommended. This is because we've checked to make sure any recommended casino offers the highest levels of security to their players, such as SSL encryption, to ensure that your personal and banking details are always well protected.
▲
Q
Can I get any bonuses when I deposit funds?
▼
A
You certainly can, especially if you are depositing at an online casino in SA for the first time. New players can generally use a welcome bonus, and this can double, or even triple, the first deposit they make. Reload bonuses are often also offered to existing players, which add bonuses to any deposits made. You can learn about a site's bonuses in their review on this site.
▲
Related Pages