Getting started in online gambling 101!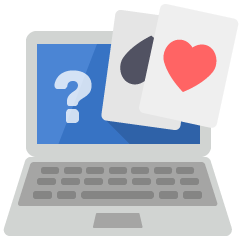 Don't be alarmed if your first few times gambling online are a bit overwhelming. There are so many South Africa sites to choose from in 2022, all with different themes, each offering alluring bonus options and an infinite amount of games to choose from. Don't worry, we're here to help make your experience way more fun with our guide to getting started in online gambling.
First things first!
How do you choose a reputable site for the best experience? With so many gaming sites to choose from, one of your first obstacles is choosing a reputable one to play on. Here are five ways to help you find a legit online casino with our gambling online 101 guide:
Read reviews on gaming sites to determine which sites get the most favourable scores and are most popular.
Visit online watchdog sites that rate casinos according to their performance and latest 2022 customer reviews.
Look for licensed sites with very clear and upfront Ts & Cs on the homepage.
Read the security policy of any site you visit to find out how they protect you.
Read all about the deposit and withdrawal methods offered at each site you're considering playing at.
Before you sign up
Once you've made a mental list of the most appealing sites and are thinking of signing up, online gambling 101 says you should weigh up the welcome bonuses to see what's on offer before you register. Internet casinos offer different kinds of bonuses to first time players as a way of getting them to sign up and play, and while these are a great way to be introduced to some top online gambling sites, there's always fine print to go with them.
4 Types of welcome bonuses include:
Matching deposit bonuses, where the amount you deposit is matched by the casino.
Percentage deposits, where a percentage of what you deposit is matched by the site.
Free play bonuses, when a casino gives you a set amount to play with during a limited period of time.
No deposit bonuses, where you receive a small amount to play with before you deposit anything.
While all of these welcome bonuses give the player something to start off with, not all of them offer real money withdrawals. Make sure you know exactly what the Ts & Cs are before you join. Not every bonus can be withdrawn, while others require you to place bets to a certain amount before they become available.
Downloading software or playing in-browser
This is essential gambling online 101 to ensure the best gameplay experience. There are two main ways to access a site. Via downloadable software, which is very old school, or via instant, in-browser play. Many sites in 2022 require no download to play, which means as soon as you're signed up you can play right from your browser. One downside to this is that if your internet connection is slow, it could affect the quality and speed of the games. Alternatively, others require you to download software that installs on your machine like an app.
Deciding what game to play
Once you've done some research on your reputable site of choice, read the Ts & Cs to go with the sign up bonuses, and decided to register and begin playing, the next thing to decide is what game to play. Our top online gambling 101 tip for beginners is to practise a few times before playing for real money. Choose games with the best odds and try a few demo rounds if possible. Games that require skill include blackjack and poker, while games purely based on chance that require little skill include slots and bingo.
Know when to stop playing
The final rule in our online gambling 101 guide is to know when to quit and to play responsibly. That means it's vital that you decide how much to spend before you start playing, and then stop once that limit is reached. Chasing losses by betting more is a strategy that's bound to fail. In addition, drinking excessively while gambling is also not recommended. Keep your head clear while you bet!
We hope our guide to getting started in online gambling 101 has inspired you to try your luck at some of the top online destinations in South Africa. Start exploring and see for yourself how simple it is to play!
Related Pages