Play at the Top South African Video Poker Sites in 2022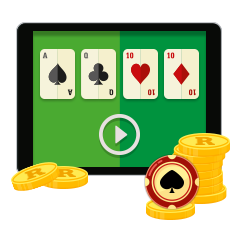 If you love video poker, then online casinos are absolutely perfect for you. No longer are they only found in big casinos in Sun City and Las Vegas – they're also now found in droves at online casinos, and players have the chance to play a variety of different video poker types, for free, or for real money. What's more, video poker games have some of the highest RTPs around, meaning that they represent a great chance for you to make money when you play at one of our top online casino sites.
Video poker is found at pretty much every South African online casino – and why wouldn't it be? After all, online casinos want to give their players exactly what they want, and many players simply want to play video poker! To find the best video poker site for you, take a look through our reviews. Alternatively, just head to our top online casino for video poker players in 2022, which is currently .
So, what will you find on this video poker page? Well, we'll let you know:
Which types of video poker are found online
The online casinos with the best video poker games
How to play video poker online
Video poker games have some of the highest RTPs around, meaning that they represent a great chance for you to make money.
The Best Places to Play Video Poker Online
In South Africa, video poker is really popular. Therefore, it's not too surprising to find that most online casinos offer this game to players. So, how are you supposed to choose the best video poker online casino for you? The answer is simple: read through our reviews, which have been created by experts in the online gambling world. What's more, our reviews are totally impartial, as we aren't owned by an online casino – so you can trust us to recommend only the best video poker casinos around!
All our reviews contain loads of important information, however the most important information to video poker players will be the number of video poker variations a site offers. We'll also let you know about the security, so you can play with complete confidence, plus we'll tell you about all the bonuses each online casino offers. Once you've finished reading, you'll know whether a site is perfect for you or not.
The Different Video Poker Variations
There are absolutely loads of different varieties of video poker, and new ones are being invented all the time. They are all based on the original Jacks or Better video poker game though, and this is still one of the most popular video poker games at online casinos in SA. In this game, there are no strange rules or additions to the paytable – quite simply, if you get a pair of Jacks or better, you'll win a prize. It's the best type of video poker for those new to the game, as it allows a new player to get an understanding of the basic rules, before then progressing to more complex versions of video poker.
Other types of video poker found at online casinos include Deuces Wild, Double Bonus Poker and Tens or Better. Different versions of the same game might have slightly differing paytables though, as many games producers have made their own versions. Because there are many different types of video poker, it's really important to check the RTP before you play. This is because some versions have RTPs of over 100%, meaning that you should make money over the long term, if you use optimal strategy. It clearly makes sense to play the games with the highest RTPs. Although not always the case, Jacks or Better and Deuces Wild are two of the games that sometimes have RTPs of over 100%.
How to Win at Video Poker
There is no definite strategy for winning at video poker, as the cards are dealt completely randomly, and you can't influence this. You can, as already mentioned, play at the video poker games with the highest RTPs though. The RTP is the amount of money a player can expect to receive back when playing over a long period of time. So, a video poker machine with 99% RTP would give R 99 for every R 100 bet. Video poker games with over 100% RTP should lead to profits in the long term, providing you make no silly mistakes.
Bankroll management is also important, as it is with every other online casino game. It basically means that you should only bring a certain amount of money to play with – often 10% of your overall bankroll – and should then walk away if this money is lost. The result? You won't continue to lose money, and will be able to return tomorrow and play video poker, without having to make another deposit. It can be tempting to play the highest stakes possible, but this severely limits your chances of winning money – unless, of course, you already have huge amounts of money in your online casino account!
Play Video Poker Online Today!
Are you one of the many South African gamblers looking to play video poker for real cash in 2022? If so, all you need to do is pick one of our recommended video poker online casino sites and sign-up with them – a process that should take just a couple of minutes. You'll then be able to choose from many fantastic video poker games, and will hopefully be able to win some huge amounts of money when you play one of them!

FAQs
Q
Is online video poker legal?
▼
A
Many South African gambling fans will already know that online gambling is technically not allowed in South Africa, as is the case in some other countries throughout the world. The fact is this though: the chances of being prosecuted for gambling online are pretty much non-existent, meaning that many South Africans play video poker online every day.
▲
Q
What's the best video poker site?
▼
A
There are loads of fantastic online casinos offering video poker to players in SA in 2022, and we've reviewed lots of them here on this site. To find the video poker online gambling site that's best for you, just read through our comprehensive reviews. Our reviews change regularly though, so check back soon to see if there's another great site you could be playing at!
▲
Q
What's the best type of video poker?
▼
A
Every type of video poker is different, and everyone has their own opinion on which is best. Purists and new players should like playing Jacks or Better, as it's the most basic version of the game, while those looking for something a bit different might like games featuring wild cards, such as Deuces Wild. Those wanting to win the most money though should pick the game with the highest RTP.
▲
Q
How much can I win playing this game?
▼
A
Each variation of video poker has its own paytable, therefore the maximum prize differs from game to game. If you manage to get a Royal Flush, you could find yourself winning thousands and thousands though! There are also some video poker games with progressive jackpots, and these jackpots can become absolutely huge.
▲
Related Pages