Using E-Banking at ZA Online Casinos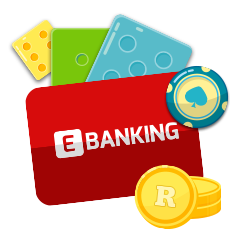 E-Banking, which is an all-encompassing term used for the transfer of cash directly from a checking or savings account to pay someone for services or a product, is available to ZA players. Bank account holders can use it to transfer cash from their bank account into another account, such as an online casino account. E-Banking offers South African players a convenient method for funding their account. All of the South African online casinos that we have shortlisted on this page accept E-Banking payments, including , which we have found to offer large welcome bonuses, top-notch games, and exciting promotions. Many players prefer this method of depositing cash into their casino account, as no third parties are involved.
Each of the E-Banking South African online casinos on this page:
Have been found to be safe, fair, and secure and friendly to ZA players
Include generous welcome and reload bonuses and ongoing promotions
Are conscientious about security and fraud prevention
One of the best things about E-Banking is you are using cash rather than credit to fund your casino account. This method really allows you to control your spending.
How to Set Up E-Banking
E-Banking is very easy to use. To transfer cash using this method of payment you must have either a checking or savings account at a bank. In addition, you must set up an online bank account and make sure that you're able to make payment through it. Most people who use this form of payment utilize the customer service center at their bank to set up their online bank account. This can be done quickly and once your E-Banking is set up, you'll be good to go at any time.
Using this Form of Payment
Once your E-Banking account has been created, it's very easy to use this service. Simply go to your online casino and choose E-Banking as your method of deposit. The first time you use this service, you'll need to confirm your bank account. This may take three to five days.
After doing so, fill out the E-Banking form located on your online casino's banking page. You'll need to provide your name, name of your bank, routing number, account number, and the bank's phone number. You'll also have to indicate how much you want to transfer into your casino account. After confirming all of the information, you will submit the request. The amount of time needed to complete such a transaction can vary, but it usually ranges from two to five days.
Features that Make E-Banking Attractive
South African real money online casino players who use E-Banking like the ease and convenience it offers. Often there are no fees for these transactions, however you should check with your bank and the casino to confirm this. One of the best things about E-Banking is you are using cash rather than credit to fund your casino account. This method really allows you to control your spending.
Also, this payment process tends to be exceptionally secure as banks utilize the best antifraud and encryption software in the world and online casinos tend to be vigilant when it comes to your personal and financial information. With no middleman involved, there's less chance of having your personal data or your account compromised.
ZA Mobile Casino Payment
If you are a South African real money casino player who likes to play at your site's mobile casino, you'll be glad to know that all the banking services offered online are also offered to those using their Smart Phones or tablets to play. That means you can use E-banking when you access your casino with your mobile device.
All of our South African online casinos offer a strong mobile presence that can be accessed through hundreds of different devices. That includes iOS, Windows, and Android phone and tablets as well as BlackBerrys. Popular tablets include the iPad Pro and iPad Mini, and iPad; the HP Elite, Microsoft Surface Pro 4, and NuVision Windows 10; and the Samsung Galaxy Tab S3, Fire HD 8, and Google Pixel C.
Popular mobile phones are numerous and include Androids such as the Mozo Z Play, Google Pixel, and Samsung Galaxy S7; Windows devices including the Microsoft Lumia 640 XI, Nokia Lumia 530, and HP Elite x3; and Apple products such as the iPhone 6 and iPhone 7. The most popular BlackBerry devises are the Priv, Porsche and Unlocked Blackberry. South African real money mobile casino players have a large selection of phones and tablets from which to choose. Those mentioned are just a few that have been found to be effective.
Best E-Banking Online Casinos
If you're a real money casino player in South Africa and you're looking for a great E-Banking casino, then please take a moment to review our list of the very best ZA casinos. All of our E-Banking South African online casinos offer high rates of payout, exciting promotions, and big-time bonuses. They also feature the finest slots, including major progressives, top casino card and table games, and much more.
If you are a South African real money online casino player, you're going to find at least one, if not many, gaming rooms that you're going to call home. Take a moment to review all of our offerings on this page.

South African E-Banking FAQs
Q
Can you describe what E-Banking is?
▼
A
E-Banking is using your bank account, either checking or savings, to make payments online. In order to do so, you must utilize your bank account through the Internet and allow such payments to occur.
▲
Q
How does it work and is it complicated?
▼
A
E-Banking is not complicated. After setting up your account for E-Banking, and a customer service representative from your bank can help you do so, you can make online purchases and perform other transactions. To do so you have to provide information to the entity you're paying. Usually they will need your name as it appears on your account, your address and phone number, the bank name and routing number, and your account number. They may also require the bank's address and phone number.
▲
Q
Do South African banks allow the transfer of funds to online casinos?
▼
A
Yes, if you have a South African bank account you should be able to transfer cash in the form of Rands to your online casino account.
▲
Q
Is E-Banking safe to use?
▼
A
It is safe to use as long as you are sending your cash to a reputable online such as those found on this page. Your online casino should utilize industry standard encryption software, feature various security tools, and employ security personnel to monitor all transactions.
▲
Q
Will deposits & withdrawals be processed quickly?
▼
A
E-banking transactions will usually take longer than those where you use an eWallet, prepaid debit card, or credit card. Banks tend to have to send payments through a complex network that includes various checks and balances. Although some E-banking transactions can occur in real time the vast majority of deposits take from one to four days. Withdrawals from casinos, which include the processing time that involves checks for fraud, will take from five to eight days.
▲
Q
How does this type of transaction service compare with others?
▼
A
It is at least as secure as other methods and in many ways more so. That's because banks tend to use the very best security and encryption technology available. Overall, it's a bit slower than other methods. In terms of ease and convenience, E-Banking is very competitive with other forms of payment.
▲
Q
Will I have to pay any fees if I use E-Banking?
▼
A
This varies depending on numerous factors, which include the type of bank account you have, your bank's specific polices, and the rules and regulations of your online casino. In some cases such transactions are free and in other instances there are fees attached, which may be a flat fee or they may range from 1% to 4% of the transaction amount.
▲
Related Pages