10 fun online gambling facts to fascinate you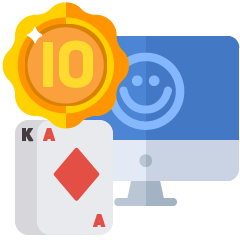 If you're one of the estimated 1.6 billion people who enjoy gambling every year, discover even more about the colourful world of betting with our list of 10 fun facts for online gambling, as well as some offline trivia you'll love to share. Let's get started!
Roulette is one of the most popular games in the world in 2022, and a top choice at both land-based casinos and online gambling sites. The word is derived from a French word that means 'little wheel'. Sometimes referred to as The Devil's Game, legend says that French entrepreneur and Monte Carlo Casino Operator François Blanc bargained with the devil to learn the secrets of roulette. This is supposedly why all the numbers on a wheel, 0 to 36, add up to 666.
2

Gambling dream, how rare is a Royal Flush?
en, jack, queen, king and ace. The winning hand that every poker player dreams of. But the chances of a royal flush actually making an appearance in your game are so rare it's unlikely you'll ever pull one. Some statistics suggest that if you were dealt 20 hands of poker every single night of the year for 89 years, in all probability you'd only get a royal flush once. Don't be discouraged by number two of our 10 fun gambling online facts though, with the right poker strategy you can still stand to win real money!
3

The First Ever Slot Machine
Number three of our 10 fun online gambling facts is about one of the most popular games in the world. The first prototype of what would eventually become a modern slot machine was developed in New York in 1891. The machine was based on poker and was made using five drums, each holding a total of 50 card faces. By inserting a nickel and pulling a lever to spin the drums, players tried their luck hoping for a good hand. Instead of paying out real money, players won whatever was on offer at the establishment which housed the machine, winning free drinks, cigars and other prizes instead.
One of the biggest jackpots ever won was in Vegas when a 60-something year old woman won almost 700,000 dollars on the Wheel of Fortune machine. Instead of quitting, the lucky player continued visiting the casino to continue trying her luck, and a few months later hit a 27 million dollar jackpot. Carry on reading to discover even more of our 10 fun gambling facts online.
5

Double or Nothing for a Real Money Win
A professional UK gambler once sold all his possessions so he could gamble 135,300 dollars on a single spin on red at a roulette wheel in Las Vegas. With that one spin he instantly doubled his money, tipped his dealer 600 dollars and walked out of the casino. Ashley Revell then used his winnings to set up his own poker company.
Enjoying our list of 10 fun facts for online gambling so far? Keep reading to learn about the man who bet his wife in a game of poker!
6

Staggering Online Statistics
There are an estimated 173 million people who enjoy gambling online worldwide. In 2022 the revenue is set to grow to 2.5 billion dollars.
7

Losing a Poker Match, and Your Wife
During a poker game against a friend, Russian man Andrei Karpov is said to have run out of real money and, after doing a quick count of what belongings he could wager to stay in the game, he decided his best chance was to bet his wife. His wife Tatiana divorced him shortly after, and ended up marrying the friend he was playing against!
8

Ben Banned From Blackjack
Number eight of our 10 fun gambling facts online was huge news all over the world when it first happened. Famous actor and Academy Award winner Ben Affleck was banned from the Hard Rock Casino in Las Vegas after being caught counting cards at the blackjack table. The actor said afterwards that he took some time to learn the game to become a decent player and that he couldn't believe being the best was against the rules.
'Slot Detective' is a top online gambling game invented by Japanese developers to make the public more aware of some of the country's most wanted criminals. Instead of cherries, the object of the game is to line up mug shots of faces instead, and if a player hits the jackpot then details of the crime also pop up as an added bonus.
Everyone knows top land based casinos are cleverly designed to keep us playing for as long as possible. But how? Some conspiracy theorists suggest that casinos pump more oxygen into the air to keep players refreshed and alert, while others say they are designed with no windows or clocks to confuse our sense of time and keep us playing for longer. While this is legend at best, there is a great deal of psychology behind how casinos are designed. While you may not encounter much of this while gambling online, there is a huge amount of research done on user experience to improve the way online casinos operate too.
Now that we've revealed our 10 Fun Gambling Facts for 2022, here's one more bonus fact. A fisherman who once spent 20p in an online casino won a whopping 6.4 million Euro jackpot and became an instant multi-millionaire. Now there's something to write home about!
If you enjoyed reading our 10 gambling online facts and feel lucky, why not log onto one of our highly recommended destinations to see if you've got a memorable win coming your way!
Related Pages