Find Your Perfect South African Online Casino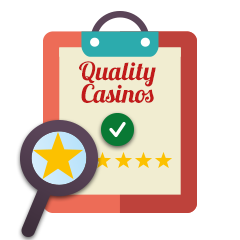 If you live in South Africa and want to play at an online casino, you'll quickly find that there are absolutely loads of different sites available to you. Most of these sites are really good, some are fantastic, while a few don't make the grade. Deciding which if these casinos you sign-up with can be tough though, but don't worry, because help is at hand. On this site, we've reviewed many of the different South African online casinos sites, giving our honest opinion on each of them. So, all you need to do is quickly browse through our reviews, and choose the online casino that fits your own personal requirements.
But how do you know that we'll be completely honest in our reviews? Well, the answer is simple: we're not owned by any online gambling company, so we have no obligation to write good reviews for some sites, and poor reviews for others. Instead, our writers are given free rein to write exactly what they think about a particular online casino. If they love a site, they'll let you know – but if they hate a site, they certainly won't be shy about telling you!
What You'll Find in Our Reviews
We don't simply give you a brief overview of an online casino, as we know that this won't be overly helpful to you. Instead, we strive to provide a fully comprehensive review of every site we look at, delving into every aspect of each online gambling site. This is because we believe that you deserve to know everything, before deciding which online gambling site to play at. There is one area of an online casino that we think is more important than any other though, and it's security. Therefore, we ensure all recommended casinos are properly regulated, and that they have also had their games verified by reputable organizations, such as eCOGRA.
Along with the security, we'll also talk in depth about the games offered by a site, as these are the main reason why most play at online casinos. We'll tell you which games are on offer, how good they are, and how much money you could win when you play. The bonuses on offer are also an important part of any review, and we'll let you know all about a site's welcome bonus, as well as any other bonuses it offers. So, you'll always get the best deals when you play at a site we recommend.
There's still more though. For a start, we'll thoroughly look at the customer service a site offers, which is really important – after all, you'll need a site's customer service should you ever run into any issues at a casino. We'll also look through the different ways you can deposit and withdraw, as well as the mobile experience that players are offered. Once we're finished, you'll know absolutely everything about a specific South African online casino in 2022!
Avoiding Bad Online Casinos
We don't just tell you which casinos are best – we'll also let you know, in no uncertain terms, which online casinos you should absolutely avoid. This is because we'll place any really untrustworthy casinos on our blacklist. They could be placed on this list for any reason, ranging from poor customer service through to withholding player funds, and we certainly don't place any sites on the blacklist lightly.
So, before you sign up with any South African online casino in 2022, you should look through our blacklist. Also, keep checking this list regularly, as we often add new casinos to the list, and remove existing casinos that have cleaned up their acts.
Our Top Online Casinos
Below you'll find the online casinos we believe are best for players in SA – why not read through their reviews to find out if they are perfect for you?
Related Pages