The Best South African Offline Casinos for 2022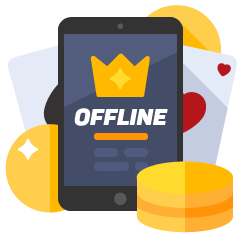 Playing online is loads of fun, however sometimes people want to get a taste of the real action, playing alongside others at a physical poker table, or sitting in front of an actual slot machine. Those in South Africa are in luck though, as there are many great land-based casinos to choose from, based all over the country.
On this page, we'll walk you through everything you need to look for in an offline casino, so that you can choose the perfect one for you. We'll also talk about the games and promotions that offline casinos regularly run, as well as the other activities you might find at them. Once you've finished reading this page, you should easily be able to pick out the top South African offline casino for you!
So, if you live in South Africa - or are planning a trip to South Africa - and want to find the top offline casinos, keep on reading…
Features of the Top Offline Casinos
There are many different things that make an offline casino a good one, however the most important is undoubtedly the games. After all, these are the main reason for visiting a casino, aren't they? Some smaller casinos might only offer a few different tables, and a small selection of slots, however some mega-casinos will offer games of every type, as well as banks of slot machines for you to choose from. So, before you head to a casino, it's important to double check that they offer the game you love!
The best offline casinos should also offer some sort of loyalty program for players, as they usually do at online casinos. New members are generally issued with a card, and this tracks the amount they spend. They are then given gifts or other prizes when they spend a certain amount. Other promotions should also be run regularly by the top South African casinos, including special tournaments and prize draws.
Of course, there's much, much more as well when looking to find the best land-based casino, including the range of services on offer, such as restaurants and bars, as well as the overall friendliness of the staff. Luckily for you though, the majority of casinos in South Africa go above and beyond, meaning that they offer a superb gambling experience!
The Best Offline South African Casinos
There are many great offline casinos found throughout South Africa, however some are just a cut above the rest. Below you'll find information on the top land-based casinos in South Africa…
This fantastic casino is found in Klerksdorp, which is about 170km from Johannesburg. It provides the full casino experience for families, meaning that you won't just find loads of casino games, but also kids' entertainment, such as go-karting, as well as two great restaurants and a bar. For gamblers, there are 11 different table games, as well as 274 slots to play. What's more, this casino has a hotel, so you won't have to travel to and from it every day in order to play your favourite games.
Address: Corner of N12 & Rio Boulevard, Meiringspark, Klerksdorp, 2571
Phone: +27 (0)18 469 9100
Email: [email protected]
2

Meropa Casino and Entertainment World
This fantastic casino is found in Polokwane, Limpopo Province, and offers everything you could possibly want from a casino. If it's solely gambling you're after, this is a fantastic place to visit, as it offers pretty much every game you could ever want to play. Looking to take a break from the tables though? Well, you'll find loads to do, including a spa, mini-golf and go-karting. This casino is also in the perfect position for those looking to head out and see South Africa's magnificent wildlife - tours can be arranged by the casino for you.
Address: Plot 59, Sterkloop, Roodepoort Road, 0700, Polokwane, Limpopo
Phone: +27 15 290 5400
Email: [email protected]
3

Graceland Hotel Casino Country Club
Graceland Hotel Casino Country Club, located in Secunda, isn't the largest casino around - in fact, it doesn't have as many games as the majority of other casinos in South Africa. It's a fantastic place to visit though, especially for those looking to combine gambling with other activities. The biggest draw to this casino is the fantastic golf course, however there's also a great beauty parlour, and a number of different restaurants.
Address: 1 eMbalenhle Road, Secunda, 2302
Phone: +27 (0)17 620 1000
Email: [email protected]
4

GrandWest Casino & Entertainment World
This is possibly the best casino in Cape Town. It is absolutely massive, offering you the chance to play over 2,500 different slots, as well as sit down at 79 different gaming tables. It also offers 12 different restaurants and bars, as well as a fast food court, featuring some of the world's biggest eateries. There are also loads of entertainment events, plus kids have loads of activities to enjoy too, such as Laser Tag and ice skating.
Address: 1 Jakes Gerwel Drive, Goodwood, 7460, Cape Town
Phone: +27 21 505 7777
Email: [email protected]
This is the best-known casino in South Africa, and it offers absolutely everything a guest could ask for. The gambling experience is a fantastic one, as they offer pretty much every conceivable game, however it's the entertainment that truly makes this casino special. They have a water park and a fantastic golf course, plus they offer a huge number of restaurants and bars. Some of the world's biggest acts also often perform at this venue, which could only add to your enjoyment when you visit this resort.
Address: Sun City Resort, 0316, North West Province
Phone: +27 14 557 1000
Email: [email protected]
Related Pages