The advantages of offline vs. online gambling compared!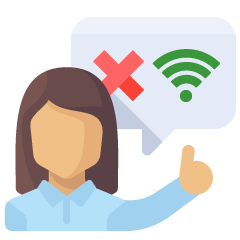 Back in the day there was only one way to tango with Lady Luck in a betting room and it involved travelling to your favourite South Africa casino. Now, with the rise in popularity of internet gaming, the advantages of offline vs. online gambling are far more competitive. In 2022 any keen gambler with an internet connection can instantly access a world of possibility!
But how do you choose between a night in your favourite online betting room or a drive to your local casino when these two heavyweight contenders both have so much to offer? In our guide to the advantages of offline vs. online gambling, we've pitted them against each other to help you find out!
We'll take a look at:
Convenience
Playing limits
Welcome bonuses
Payout percentages
Comps at live casinos
Human interaction
Location, location, location
It's one of the top advantages of gambling online, so when it comes to convenience, this one's a no-brainer. When you consider getting dressed, driving, finding parking and dealing with crowds versus staying home in pyjamas and logging in from the most comfy spot in your home, internet gambling is certainly less effort. Websites run 24 hours a day, so no matter where you are or how you're dressed, all it takes to get to your favourite SA spot is the click of a button. Who wins? Online
Playing limits
Both land-based and internet casinos diligently promote responsible gambling. Limits are put into place to protect underage people from attempting to bet, and both physical and virtual casinos provide ways for players to limit the amount that they spend. Through age verification and other support systems, live casinos and internet operators aim to encourage responsible fun to the best of their ability.
Who wins? This one's a tie
Warm welcome bonuses
One of the main advantages of online gambling is the fact that you can do it from anywhere. If you think about it, by the time you arrive at a land-based casino complex you've already spent time and petrol getting there, and you've received nothing at all for your effort. One of the advantages of online gambling vs. offline, however, is that internet operators are far more competitive. They aim to differentiate themselves by offering large welcome bonuses and incentives to people that have never played with them before. The amount, and type, of bonus varies, and includes top options like match bonuses, where the site matches the amount you deposit, or welcome bonuses, which is a percentage offered to you just for signing up. Who wins? Online
Payout percentages
The ultimate goal is to win real money, right? When it comes to random payout odds and percentages, both online and offline slot games are exactly the same in principle. There is one major difference, however, in the fact that fewer overheads often allow online casinos to offer better payout percentages than their land based counterparts. When comparing offline vs. online gambling advantages, this is one of the most obvious bonuses of being internet-based.
Who wins? Online
Live casino comps
One of the advantages of gambling online is that SA sites offer welcome bonuses, loyalty points and spot prizes to their players, while comps are an age-old tradition that land-based casinos use to reward players for spending time and money at their venues. Simply put, the longer you play the more points you'll receive from a casino. While they usually can't be exchanged for real money, they can be spent on meal vouchers, discounts on hotel rooms, extra entries into competitions, clothing and promotional items. Each venue offers different comps, so it's worth looking around, and it's definitely a great reward for playing.
Who wins? Live casinos
The social factor
Nothing beats a little face to face human interaction, and the social factor at a South Africa land-based casino can be a lot of fun. While many players will agree that nothing beats the ambient sounds of a real casino, it really just comes down to what you feel like. A gaming site might not be the best place to meet new people, but many offer live chats that allow players from all over the world to engage with each other at the click of a button. This is one of the offline vs. online gambling advantages that really comes down to preference, and isn't it lucky that we have the choice!
Who wins? This one's a tie too
The final word
Coming in at five wins against three, it's a knockout. Internet sites come out on top when compared with live casinos in 2022. What they lack in ambience and tangible comp value they certainly make up for with variety, convenience and overall value, not to mention consistently improving technology and accessibility.
Discover the advantages of gambling online vs. offline by trying out the very best casinos the internet has to offer right now.

Frequently Asked Questions (FAQs)
Q
How many offline casinos are there in South Africa?
▼
A
There are 47 different land casinos in South Africa, five of which are all in Cape Town.
These casinos offer many different gambling activities including sports betting, horse betting, slots, casino table games, and more. This is in addition to lodging, food, and other forms of entertainment that help make the experience that is a weekend trip to the casino.
▲
Q
Are the odds different at an online casino compared to land ones?
▼
A
You are going to find overall better odds playing at online casinos than at your local brick and mortar one.
This is because online casinos run at a much faster pace than land casinos and can therefore generate more income faster, even if the house edge is slightly lower. Online casinos can also afford to do this because they have much less overhead than land casinos do.
▲
Q
Is there a way to interact with other people when playing online?
▼
A
In some games and game varieties, yes.
Games like poker or tournament blackjack often have a chat box that lets you interact with the other players at your table. Live dealer games even let you interact with a real live dealer via webcam and chat for a super engaging experience, too.
▲
Q
Do online or offline casinos have a larger variety of games?
▼
A
Online casinos offer a larger variety of games, just about every time.
Offline casinos have to worry about only offering games that people are going to play and help generate profit. Online there's no real penalty to casinos if a game isn't that popular, plus there's no need to hire dealers to run the actual games (live dealer games being the obvious exception).
▲
Q
Are the bonuses better online or at land casinos?
▼
A
Since the rate of play and income is much faster for online casinos, they can afford to offer bonuses and promotions land casinos can only dream of.
These include loyalty bonuses for playing a certain number of turns on a particular game, better progressive jackpot sizes, and bonuses just for signing up to the casino!
▲
Q
When are brick and mortar casinos open?
▼
A
Every land casino in South Africa is going to have slightly different hours, so always check before making your trip to one.
Typically bigger ones (e.g., the Suncoast Casino in Durban and the Sun City Resort) are open 24 hours, 365 days a year. Smaller ones may have hours that vary throughout the week and year.
▲
Related Pages