Playing Baccarat at South African Online Casinos in 2022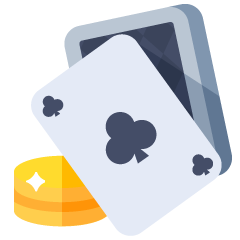 Baccarat is one of the most popular casino games in the world, however it is usually associated with high-rollers. This is no longer the case though, as the invention of online gambling has allowed baccarat to be played at a variety of stakes, meaning that even those with smaller bankrolls can play baccarat in South Africa in 2022.
We've reviewed many of the top places to play baccarat in South Africa, so you should read our reviews, before deciding where you want to play online baccarat. If you don't have the time to browse through our many reviews though, just head straight to our top real money casino for South African baccarat players, which is .
You'll learn absolutely loads about online baccarat on this page, including:
How to play this enjoyable game
How we review the different online baccarat sites
The best bet to make in baccarat
The invention of online gambling has allowed baccarat to be played at a variety of stakes, meaning that even those with smaller bankrolls can play.
Find the Top Baccarat Sites in South Africa
As already mentioned, there are loads of South African online casinos that allow baccarat to be played, in a variety of different forms. So, how do you choose the best site for you? The answer is simple: just read through the reviews of sites here on this site. You'll then be able to find out everything you need to know about a particular site, before deciding whether to join up with them. Much is covered in these reviews, from the security a site offers, through to the different games found there. We'll also tell you the ways that players from South Africa can deposit.
We constantly check that any site we've reviewed has kept the same standards, so our reviews often change, to reflect any new features added by a site. This means that you should come back here regularly throughout 2022, just to ensure that a particular site is still a good place to play. Don't worry about our honesty though – all our reviews are written with you in mind, as we're not owned by any online gambling site.
How to Play Online Baccarat
Baccarat is one of the easiest online casino games to play, and there is very little skill involved. Before the game starts, you'll have to bet on the player or the banker, or on a tie. The player bet pays out at 1:1, while the banker bet also pays 1:1, but the casino usually charges a 5% commission. If you bet on a tie – something that is not that likely to happen – your payout should be 8:1. Make sure you check the paytable at the baccarat game you're playing though, to make sure you're being offered the best odds
The object of the game is for your chosen hand to get as close to nine as possible. All cards carry their face value, aside from 10-K, which are counted as zero. If a hand adds up to more than nine, only the second digit is used. For example, if a hand totals 14, its score will be 4.
Both the player and the banker are then dealt two cards. If the player's hand totals five or less, the hand will receive another card. The banker will then receive another card, but only if certain conditions are met. These conditions are slightly complex, and take into account the player's hand, as well as the cards held by the banker. You should check the specific rules for the game you're playing to fully understand when the banker gets another card, and when they don't.
Once all cards have been dealt, the hand with a score closest to nine will win. Should you have picked correctly, you will have the money placed into your casino account straightaway. If you lose, you'll have the chance to recoup your losses quickly, as another hand will start within seconds.
Baccarat Tips
Because baccarat is almost purely a game of chance, there aren't any tips on how you can impact the gameplay. There is a way to maximise your chances of winning though, and it's this: always bet on the banker. Despite the 5% commission charged, the fact that they act second means that betting on the banker still has a better RTP than betting on the player. Never bet on a tie, as the RTP is really quite low for this option. Also, try to resist playing any side games, as these also have a much lower RTP than betting on the banker.
Also, make sure you use bankroll management. There are various theories surrounding bankroll management, however a simple method to use is this: only ever place 10% of your account balance on the table. If you lose this money, get up and walk away, and you'll still have funds available for the next time you want to play online baccarat at your favourite online casino in SA!
Play Online Baccarat Today!
Now you know pretty much everything you need to know about online baccarat, you simply need to find the best place for you to play. So, take a look through our reviews, pick the site that suits you best, and sign up! You'll then be able to start playing baccarat in just a few minutes.

FAQs
Q
How do I play baccarat?
▼
A
Baccarat is a really simple game to play, and hardly requires any skill. Before the cards are dealt, choose whether you bet on the player, the banker, or a tie. Cards are dealt, and the player and banker can then receive additional cards, depending on specific circumstances. All cards have their face values, aside from 10-K. The hand closest to 9 wins. Any hands higher than 9 use the final digit.
▲
Q
Where is the best place to play baccarat?
▼
A
There are many great online casinos offering baccarat to South African players, and we have reviewed lots of them. Our number one place to play baccarat changes regularly though, as sites introduce new features. So, if you want to find the best place to play baccarat at the moment, simply read through our comprehensive reviews.
▲
Q
How can I win at baccarat?
▼
A
Baccarat is a game based almost entirely on luck, so there's nothing you can do to influence the way a game plays out. The only important strategy to remember is this: always bet on the banker, as doing so gives you the highest RTP. Some baccarat games also offer side games, and these should be avoided, as they usually have a pretty high house edge.
▲
Q
Is online baccarat legal in South Africa?
▼
A
It is technically illegal to gamble online in South Africa, even when playing at a site based outside of the country. The fact is this though: the rule is rarely, if ever, enforced, meaning that huge numbers of South Africans still gamble online every day. So, while it's technically illegal to play baccarat online, there's only a minimal amount of risk attached to doing so.
▲
Q
Can I play free baccarat online?
▼
A
Yes, you certainly can, and we would encourage you to do so if you've never played the game before. Most online casinos offer play money games to their players, and these games are a fantastic way to learn the rules, before risking any of your own real money. Don't play free baccarat for too long though, as you'll be missing the chance to earn cash by playing a real money game!
▲
Related Pages